Showcase
Current and Previous Offerings
Spring 2020
NWMEDIA 203 4 units
Mon+Wed 10:00–12:00
210 Jacobs Hall

Syllabus

Professor • Eric Paulos
GSI • Molly Nicholas
Response to COVID-19
On 9 March 2020 classes went online at UC Berkeley to protect the health and safety of the entire UC Berkeley community. Critical Making is a studio class that leverages team-based physical prototyping and design along with in-person critiques. We needed to rethink the course content to deliver the expected learning goals under these new constraints. Students were now scattered around the globe as they moved to safe locations to shelter in place. Teams could not meet in person. There were no shared resources in terms of materials, makerspaces, or prototyping equipment.
We changed the remaining two field activities. Field Activity 05: Material Archaeology, was a scavenger hunt for every student to individually locate and document 20 unique artifacts that could be used for prototyping. These were objects and materials that students had access to for prototyping within their COVID-19 sheltered locations. This was designed to empower students to "discover" the wealth of creative materials still at their disposal. You can view all 514 artifacts the students "discovered".
We knew that while many physical artifacts would remain difficult to share across teams. However, video could be a united creative element. In fact, video editing skills would become vital to communicating narrative, interaction, and user experience across non-colocated teams. In the newly created Field Activity 06: Exquisite Design, students were provided an incomplete video of a user experience. They were asked to complete the video interaction by adding audio, additional overlays, and/or their own video sources. Students' final "completed" videos can be found at the end of this webpage.
Finally, the team-based, project element of the course, the Provocation 03: Provocation From the Near Future invited the students to engage in speculative design. The topic of COVID-19 dominated everything and everyone at that point in the news cycle. In our class, we wanted to strike a balance between responding to this crisis while pivoting away from the frenetic urgency of the issue in every life. We didn't want to ignore this topic but we also didn't want to overly fixate on the unknown and unsettling daily issues it raised. Instead, we invited each team of students to leverage speculative design to showcase an artifact from 2025 that resulted from the long-ago COVID-19 crisis of 2020. Each team member participated in "creating" that interactive artifact and collaboratively edited a video to pull together a single narrative on its motivation, usage, and interaction. These videos are shown below.
As an epilogue, we offered a final extra credit assignment, challenging students to select an artifact that they would recommend to a historian 100 years from now to be included in an exhibition in 2120 making the 100th anniversary of the COVID-19 outbreak titled "COVID-100: Artifacts and Stories from the COVID-19 event of 2020". This exhibition is being curated to capture the experience of the COVID-19 crisis of 2020. Students collectively submitted short paragraphs and images of their recommendations for the exhibition in 2120. You can read them at the end of this webpage.
Video of our whole class "performing" on Zoom after our final critique!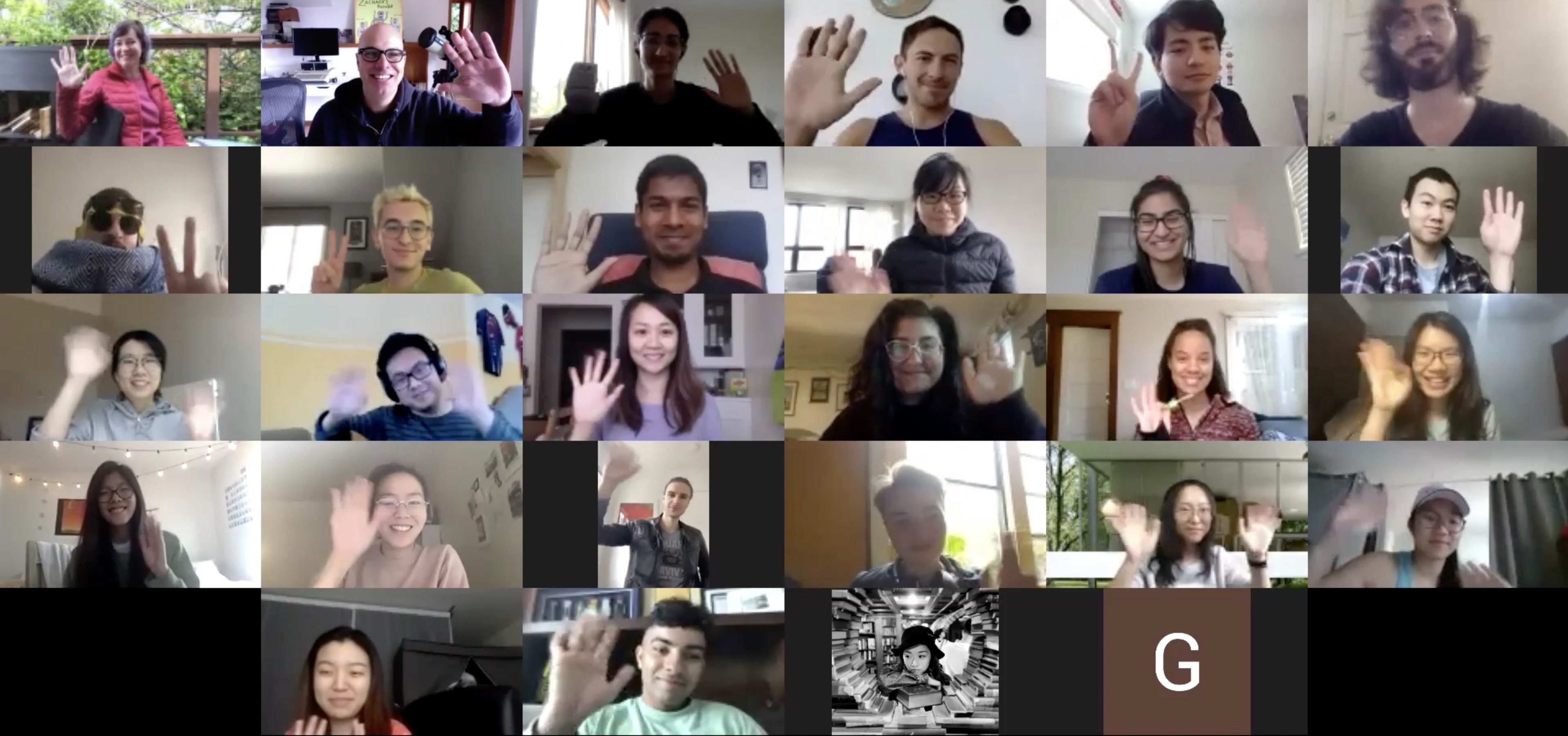 ---
Final Provocation
It's a lovely Spring day in 2025. The COVID-19 crisis is long behind us. The anxieties of early 2020 have subsided. In this provocation, student teams traveled to 2025 and brought back artifacts that resulted from the 2020 COVID-19 crisis and are now ubiquitous in 2025 life. Assignment: Provocation 03: Provocation from the Near Future
Each team's final design can be found below. These videos can also be viewed as a full playlist of all of the 10 resulting projects (3 min each)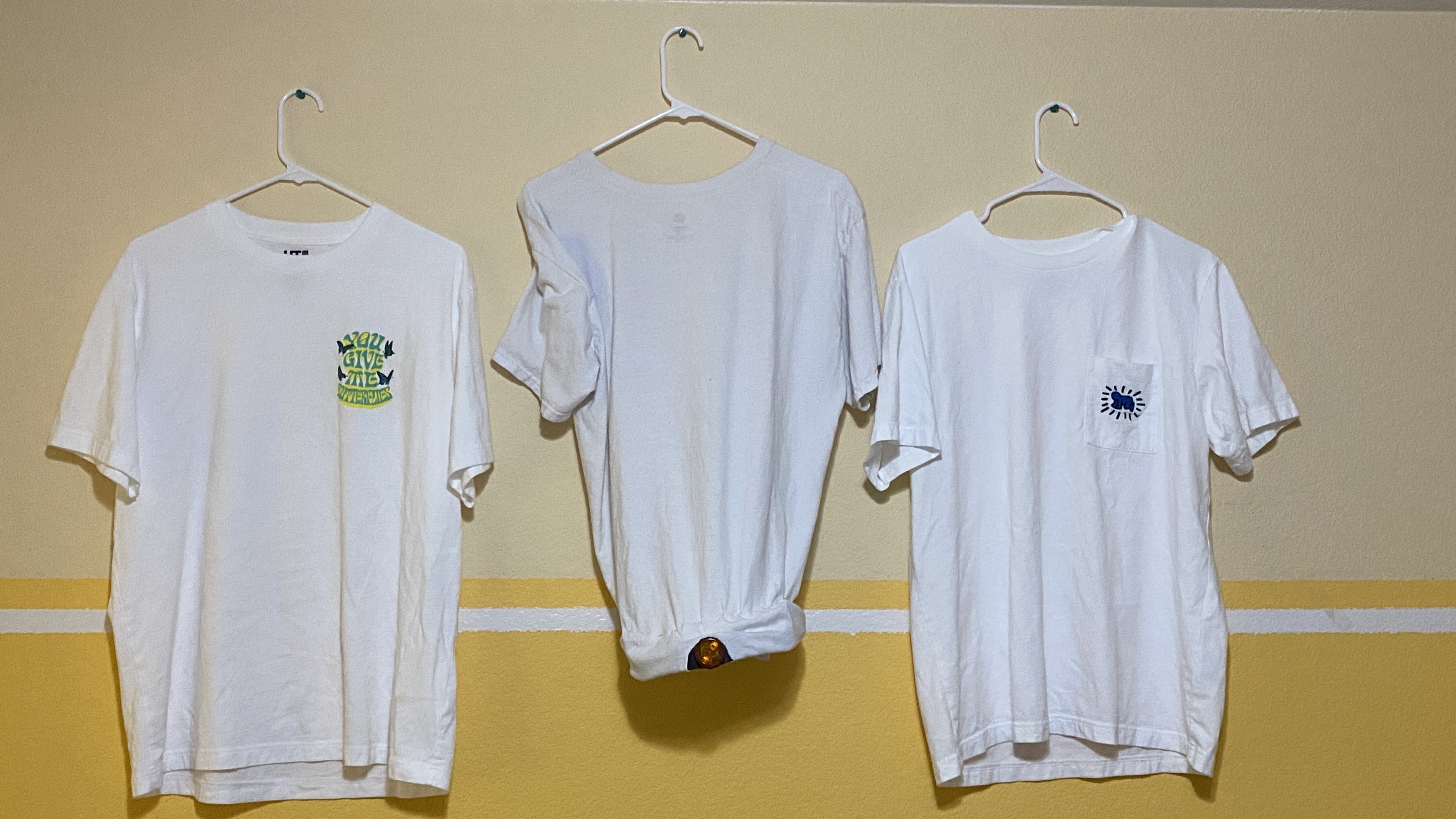 Perfect Fit: Reimagine Online Clothes Shopping
Jerome Wang and Michelle Hwang
Perfect Fit is a virtual clothes try-on service from 2025 that allows you to get a real feel and look of the clothing items on your body before purchasing them online, right at the comfort of your home. You no longer have to worry about ordering many sizes of the same item in order to pick one that fits you while returning the rest. Perfect Fit comes with a shirt that adapts to your body shape for perfect sizing and fit. It also adapts to the material and the design you specify on the Perfect Fit app. You will get a preview of how certain materials feel on your skin and how certain designs look on your body before making a purchasing decision. The precise measurement and adaptation of the Perfect Fit shirt will minimize online shopping errors and ensure all your future clothing orders are perfect!
Bubble Hat
Bowen Wei, Cui Wang, Joymaneet Kaur
"Bubble Hat" is a personalized health protection hat and wristband accessory to keep people safe in their environment. The hat is solar-powered and voice interactive. It circulates filtered air from the hat in a 2-foot radius to create a sanitary air bubble around users. The hat uses GPS and live environment health index data to determine its LED color. Green indicates safe direct contact conditions. Red indicates an unsafe environment for direct contact and encourages contactless interaction. A lidar sensor is used to detect motion between human interactions, prompting the hat to give feedback and voice guidance to the user. When touching things outside your bubble, the wristband accessory automatically sprays the refillable sanitizer, which dries instantly with bubble airflow. The hat also includes joint attach accessories including music, light, and personalized decorations. Additionally, the hat is customizable for weather, styles, and designs. Bubble Hat is a must-have in 2025.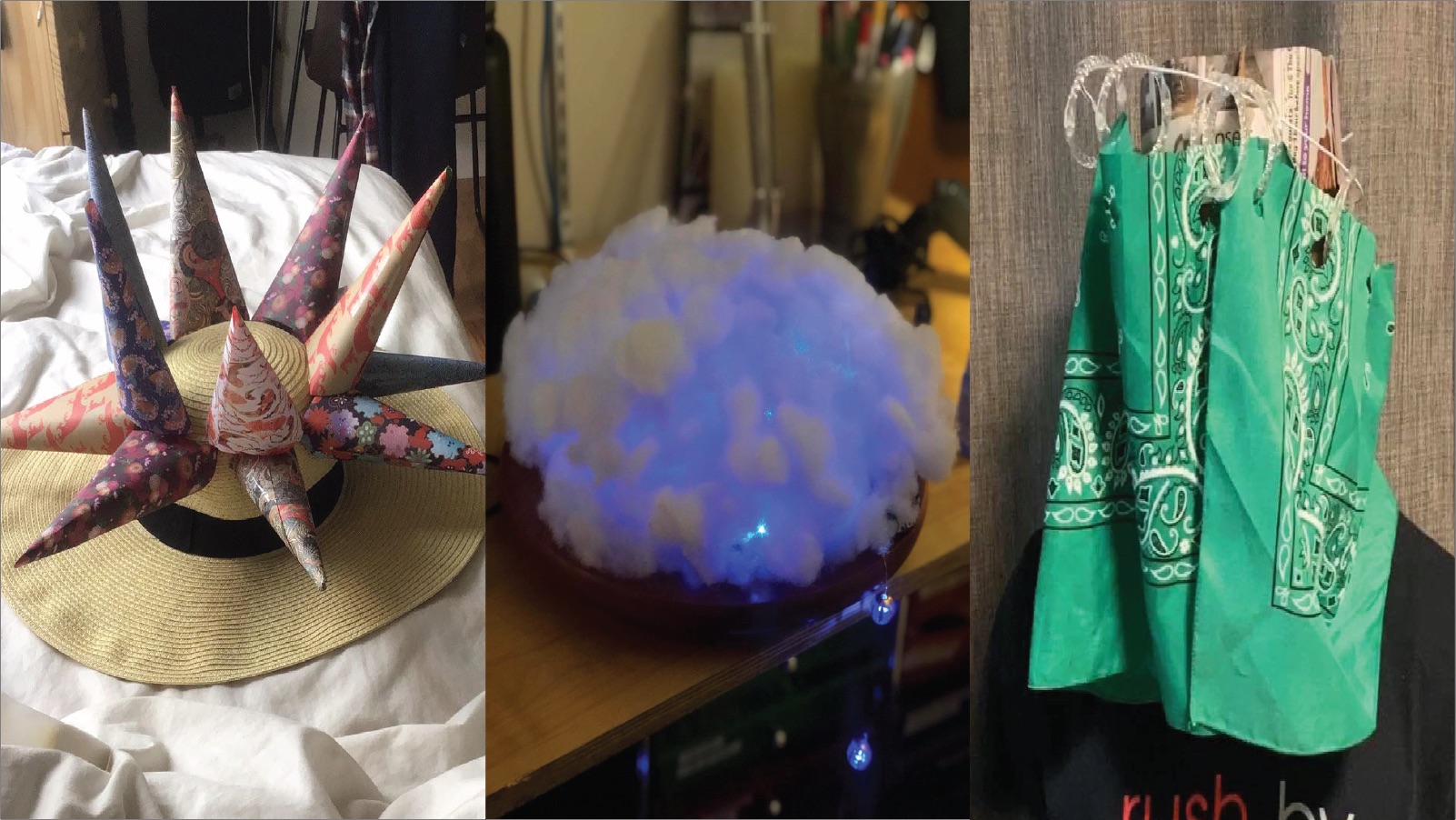 Conflict Caps
Jessie Nguyen, Katrina Roth, Tiffany Tao
The CONFLICT CAPS are three hats that were part of social movements in response to the social distancing caused by the COVID-19 outbreak. The COVID CAP, the first of the three, is a spiked DIY hat intended for the wearer to demonstrate support of social distancing in the face of protests that grew to prominence in 2020. The CLOUD CAP, from 2022, was a response to the first cap, and meant to be an encouraging beacon of connection with others after the quarantine orders had been lifted. The hat resembles a cloud, and its texture, smell, and lights garner attention and affection. Lastly came the CURTAIN CAP in 2025, a cap with curtains to conceal the face, meant for wearers who were tired of the discourse between the other hat wearers to remove themselves from the conversation and make life feel normal. Together, they comprise the CONFLICT CAP COLLECTION.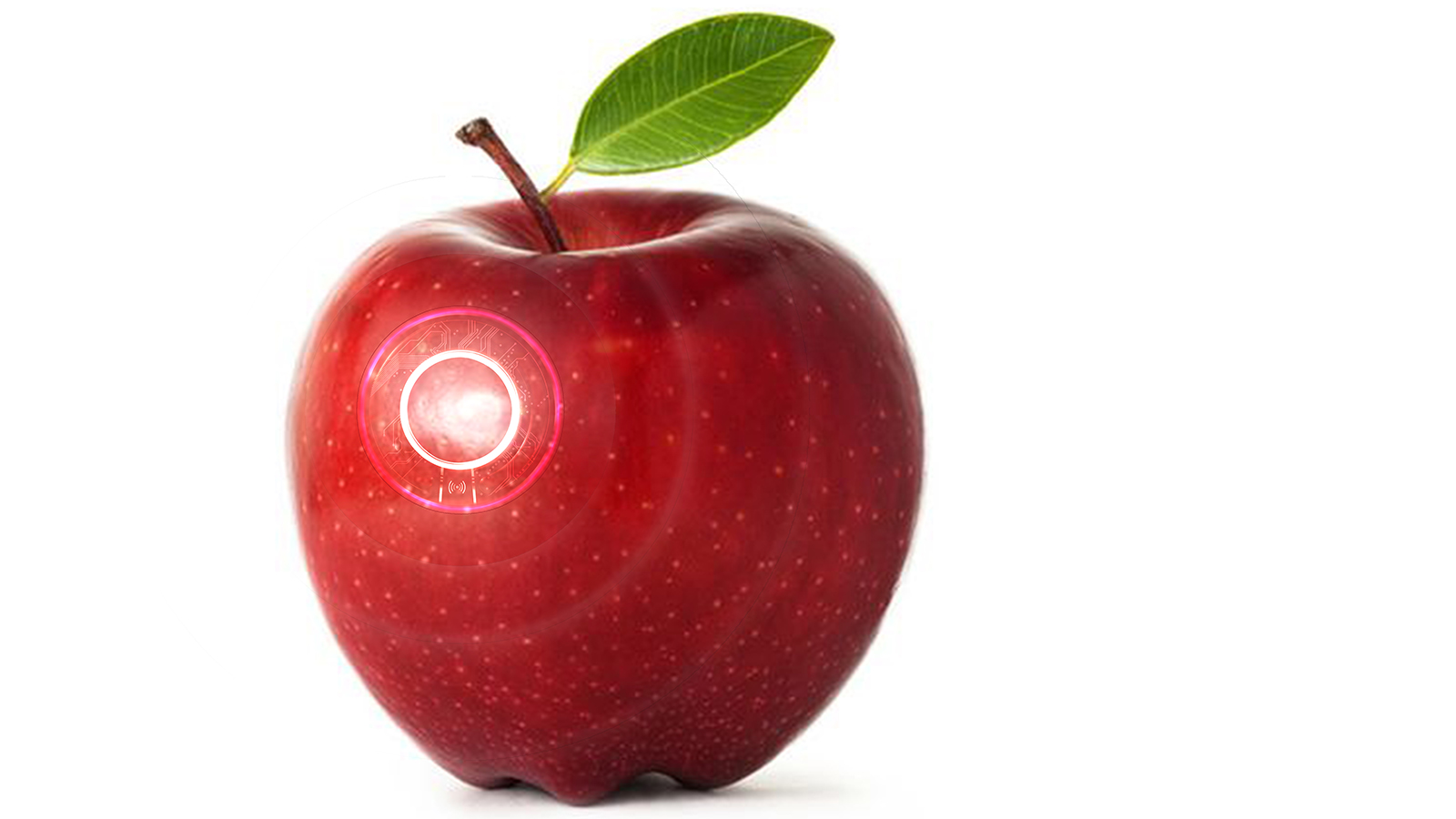 Smart Stickers
Trista Hu, Junyi Ding, and Rafael Félix
Covid-19 changed the way we interacted with objects at home. When it first hit, a lot of people started to stock up on goods, buying more groceries than they usually would. While some people bought a lot of stuff they would never use again, other people wanted to re-discover objects and elements they had at home or pickup an old hobby. We went to 2025 and brought back a box with Smart Stickers. Smart Stickers are a technological development that helps people re-discover objects in their home by reminding them of them. By doing so, Smart Stickers reduce food waste, enhance community sharing and allow people to easily build a routine and pickup that old hobby.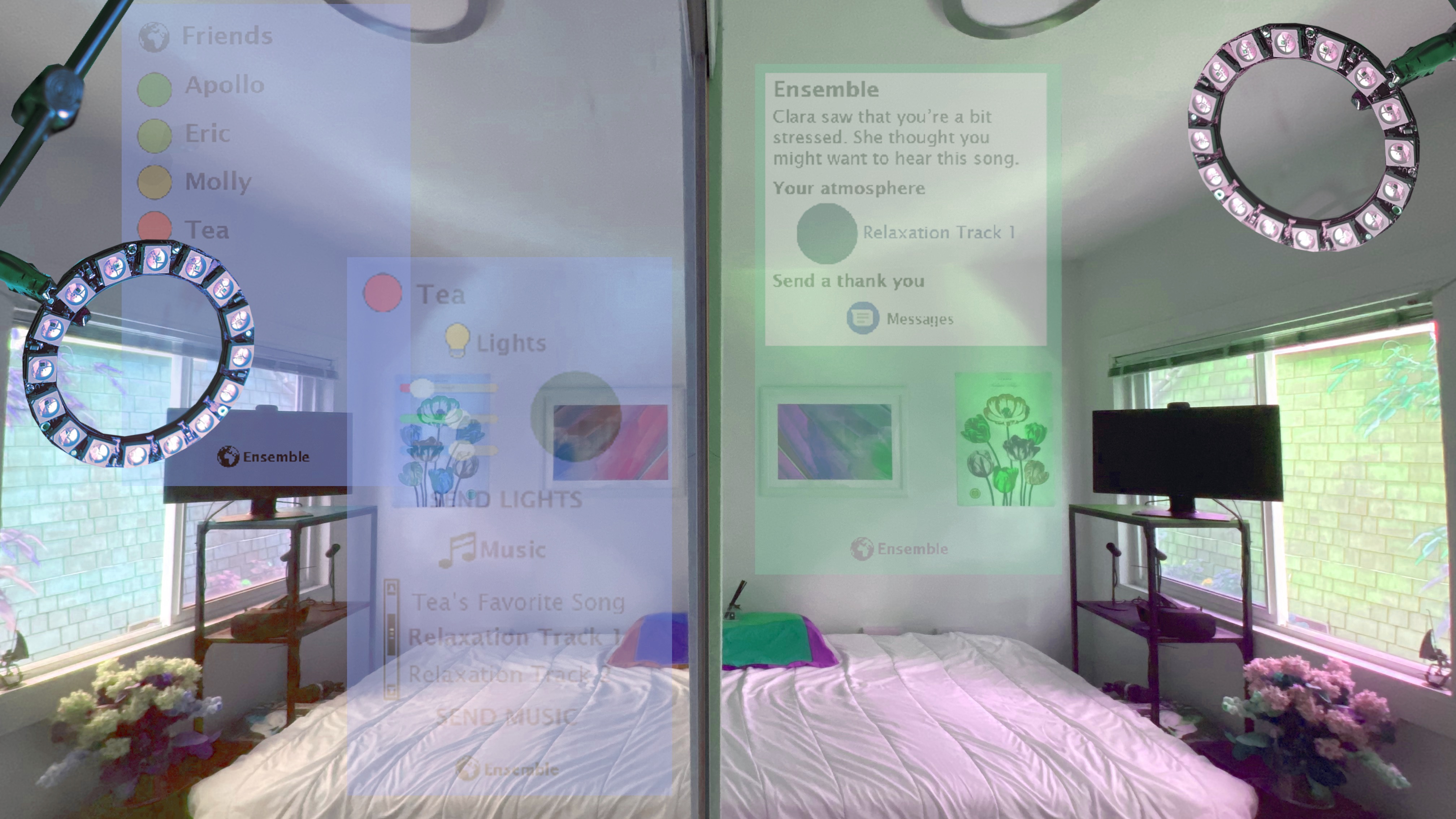 Ensemble
Dorotea Macri, Clara Orndorff, Apollo Thomopolous
As society deals with Covid-19, it must address the need for connectedness and the rise in stress due to uncertainty. Tools including Zoom are popular but cannot replace in-person interactions. By 2025, it will be critical to develop technology which provides more meaningful interaction. We designed Ensemble ("together") as a home assistant technology which utilizes a digital app to connect the user with their social network who might be isolated in different locations. Sensor-dependent machine learning will recognize the user's emotion and send alerts to friends/family if the user is distressed. Friends/family can provide an Ensemble user with a custom atmospheric experience designed for relaxation. Users can also communicate synchronously by connecting their environments for a social experience. Finally, privacy is by design, with all assets released under the CC BY-NC 4.0 (creative) and GPLv3 (software) licenses.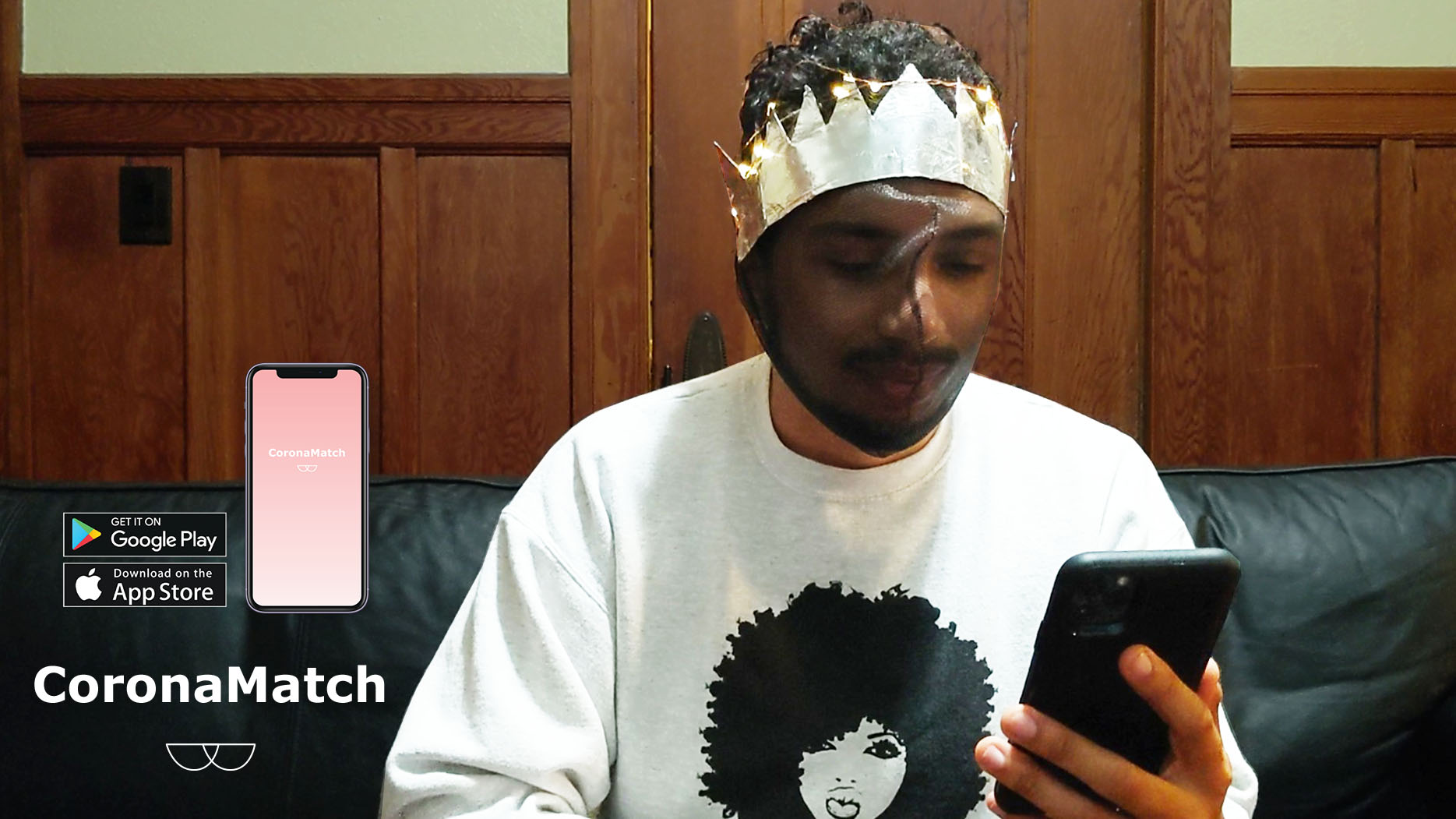 CoronaMatch
Esther Jan and Maria Pettis
CoronaMatch reimagines quotidian antiviral face masks and life here-after the 2020 Covid-19 crisis. Consisting of a fashion forward, collapsible, and highly customizable facial shield, our Corona, pairs with our new mobile dating application via Bluetooth enabled devices to tastefully ease anxiety, crowd source contact tracing, and enhance social interactions. Coronamatch unmasks the mask. Designed to fit the full face, bearded or not, our Corona features transparent and washable material filtering viral particles and aerosol pollutants, with a lightweight silver frame, Corona enhances breath-ability, facial visibility, and style. Our premium masks are retrofitted with led lights, a small facial recognition infrared camera, and a Bluetooth receiver that transmits opt-in social contact data to our secure cloud server. Control your image, by altering the flash-frequency and color of lights on your Corona. Sync your mask with our CoronaMatch app and get flashing luminous synchronization when you've met your romantic match!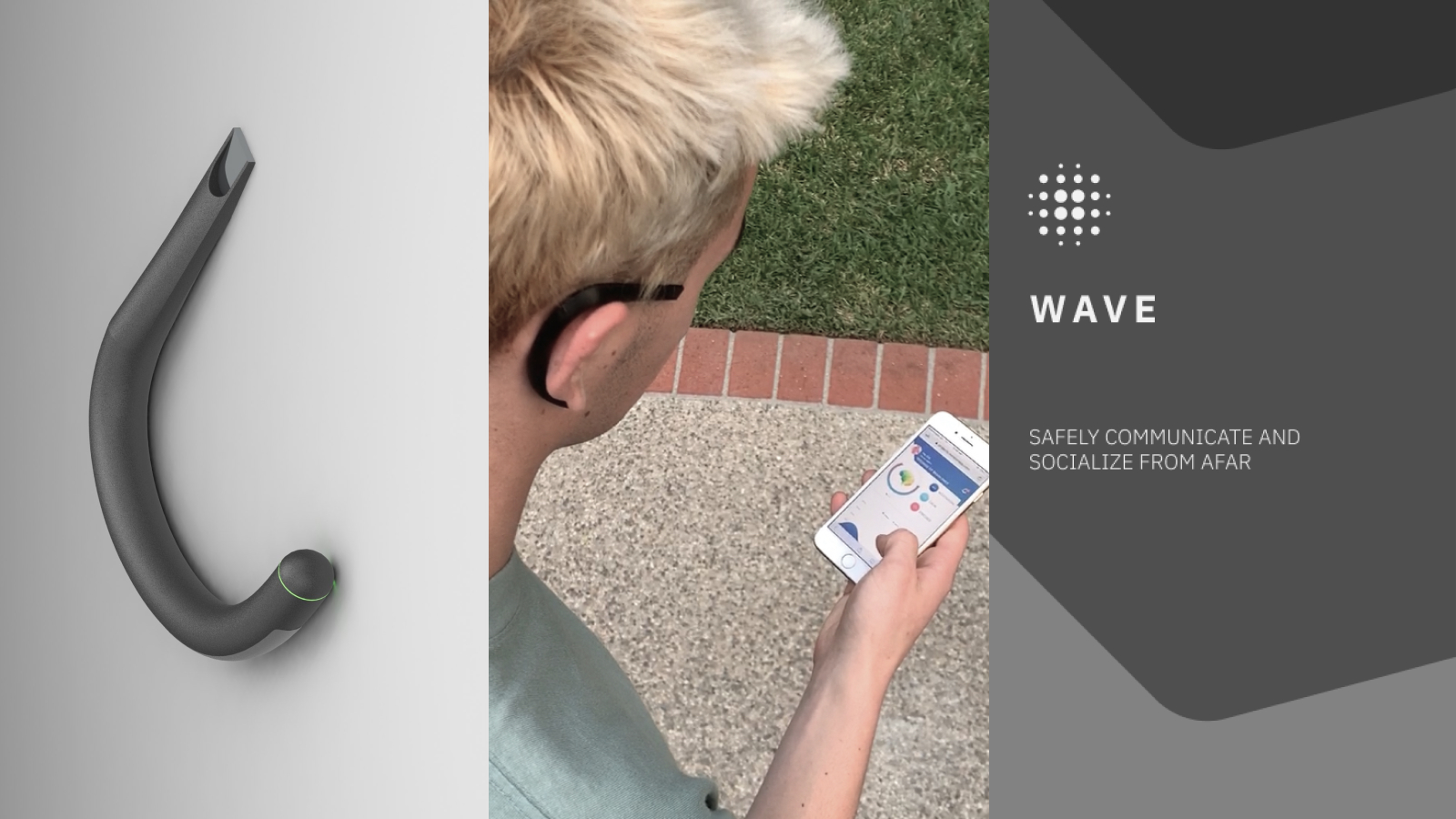 Wave
Jack Wallis, Alison Kuo, Sophie Huang
Wave is a user-centric wearable EEG designed to provoke spontaneous, intimate social connection and increase sense of place and community. It uses electrodes embedded in an earpiece to detect electrical activity in the brain, which is transmitted to the Wave smartphone application via Bluetooth. The earpiece can be calibrated to detect synaptic signatures–for instance, your neurological reaction to thinking of a specific photo–of varying intensity levels, in order to trigger different actions via a customizable IFTTT (If This Then That) framework established in the app. The latest iteration of Wave, released in late 2025, is capable of interpreting brain activity to send messages, ping other Wave users within a 30 ft radius, and create and share 'synaptic snaps' of live neurological data. Initially conceived during the social distancing measures undertaken for the COVID-19 pandemic, the device has become an indispensable tool for social connection in the modern era.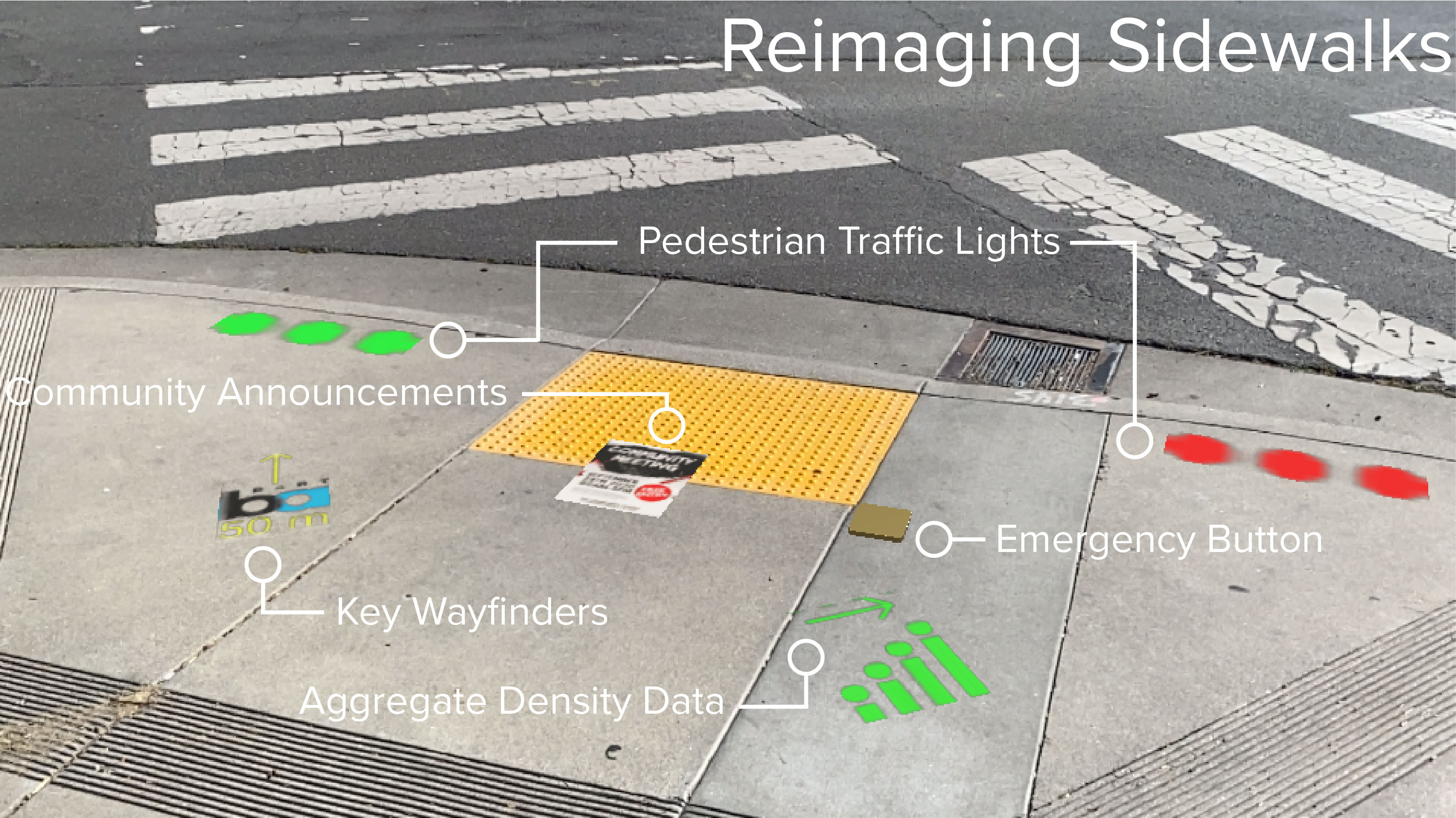 Reimagining Sidewalks
Abhishek Bhagwat, Mikio LaCapra, Warren Lai
After the COVID-19 pandemic, internet communication evolved from being a privilege to a necessity, even for those without personal devices. All forms of human collaboration including business, education, and transportation began to heavily rely on digital interaction. To cope with a new age of technological dependence, governments evolved their core infrastructure to serve as a communication medium to their citizens. However, what started as a PSA initiative, has since been adopted by several departments and communities to rebuild the societal comradery seen before 2020. The "Reimagining Sidewalks" project focuses on sidewalk improvements through three iteractive lenses: communication, navigation, and public health, highlighting features ranging from bulletin board replacements to aggregated data for directing pedestrian movement. The underlying technologies are also briefly explored for the purpose of promoting community involvement and innovation. We hope to shape smarter, safer, and more friendly cities through the most fundamental core of open public space.
Kob-E, An IoT Basketball Game
Guanqun Huang, Ani Gottiparthy, Trent Storm
Kob-E is an iPhone app combined with a hardware platform consisting of a stereoscopic camera, proximity sensor, and laser pointer. The app brings players from across the globe to play a simple game of HORSE, a basketball game, bridging their physical environments through virtual connection. The hardware box is placed on top of the backboard of a basketball hoop and can track the location of the player through the stereoscopic camera. Video feed of the camera is also displayed on the player's phones so they can watch each other shoot. The proximity sensor can detect if the ball went in the hoop. The laser pointer can display where the players are shooting their ball from. The score of the game is kept through the app, which can tell players when it is their turn to shoot. Even though they are separated by distance, this app and hardware connects friends world's and allows them to play physical games with each other.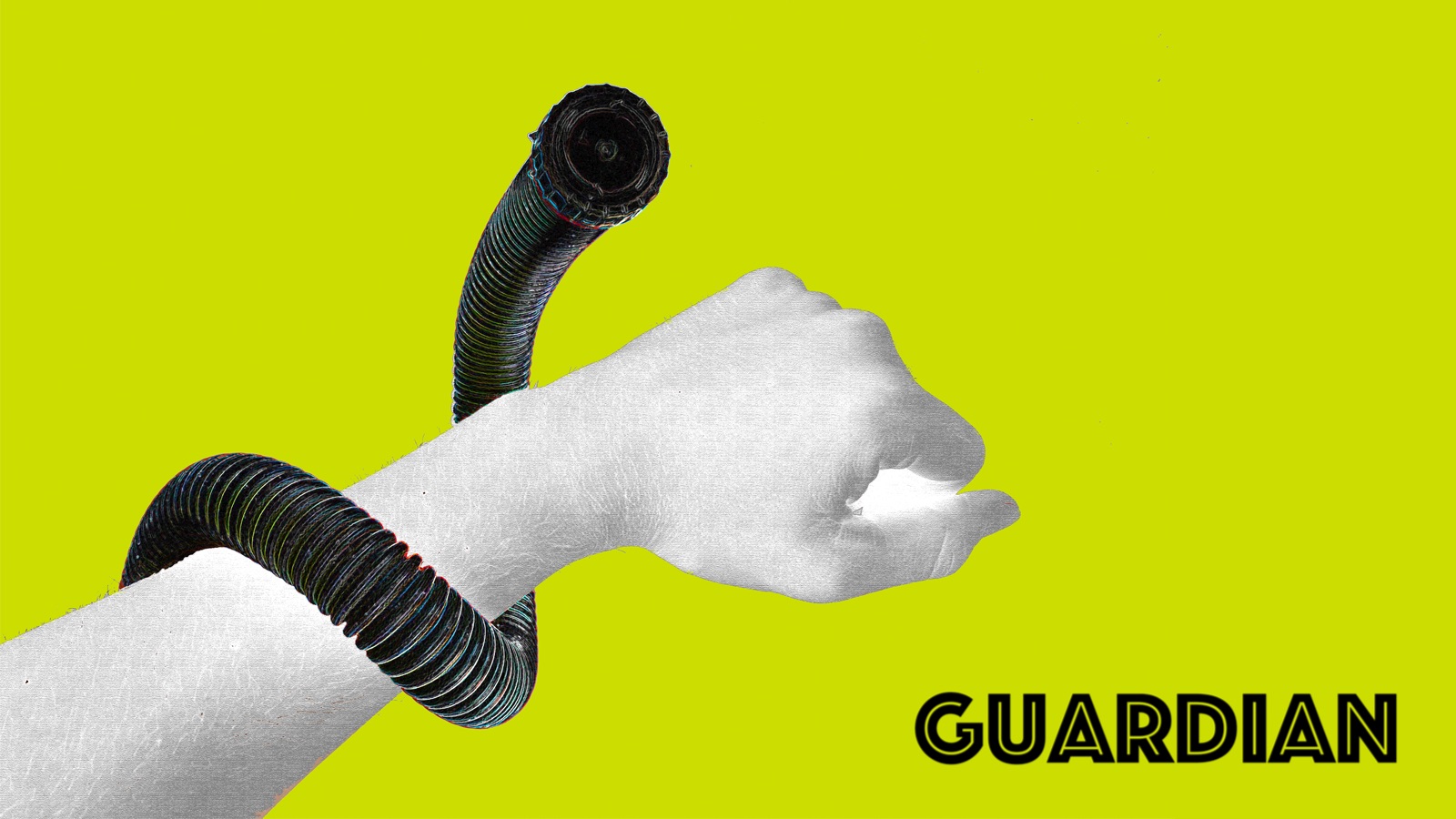 Guardian
Leonardo Huerta and Aliya Kassam
Life hasn't been the same since 2020. Periodic isolation weeks become more difficult as the feeling of loneliness grows even though they have been part of the world's monthly routine for six years now. People avoid going out to limit the need to touch door handles or bus poles, in fear of coming in contact with new viruses. Actually, the world isn't this way for everyone. Guardian owners still live their lives to the fullest! Guardians are fashionable robotic pets that accompany their owners in any activity by wrapping around their neck or arm. Guardians protect their owners by scanning surroundings for threats and assaulters. They can also identify germs on any surface and perform tasks so that their owners avoid contaminated surfaces. Guardians love being pet and playing with their owners. They are full of wonders and learn very fast. They are the perfect companions for everyday's hidden dangers.
---
First Day of Class • Design Matrix
---
Field Activity 01 • Hack This Assignment
Assignment: Field Activity 01: Hack This Assignment
---
Hyper Personal Protoyping Stand • In Class Field Activity
Assignment: In Class Field Activity 01: Hyper Personal Protoyping Stand
CITRIS Invention Lab
---
Time Capsule
---
Sensory Cardboard • Field Activity 02
Assignment: Field Activity 02: Sensory Cardboard
---
BoxIt • Field Activity 03
Assignment: Field Activity 03: BoxIt
---
Provocation 01 • Protest Design
In this provocation, students were asked to design a new interactive object within the landscape of protest and activism.
Assignment: Provocation 01: Protest Design
Each team's design can be found below. These videos can also be viewed as a full playlist of all of team projects (3 min each).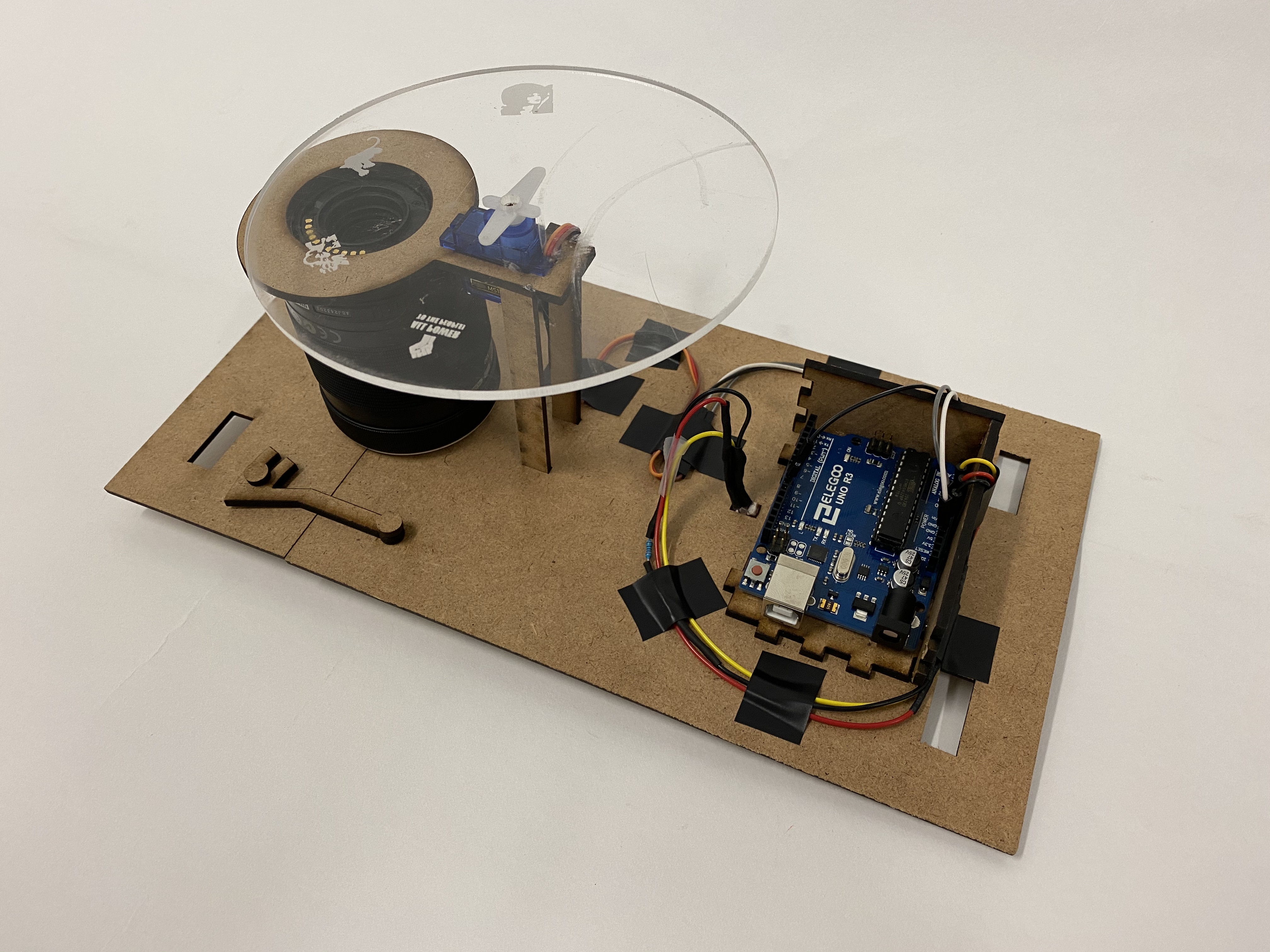 Guerilla Street Light Projector: An Anti-Policing and Memorial Protest Object
Andrew Harlan, Joymaneet Kaur, Mikio LaCapra, Maria Pettis
Street lights have been a center of crime rate debates, however, police-grade lighting can be detrimental to natural light cycles. Examples of these intrusive surveillance lights can be found in West Oakland, where astonishingly there are no physical markers commemorating the Black Panther Party (BPP). To address both issues, a hacked projector using the high power LED streetlights was created. The system is suspended from the light and focuses etched acrylic images of the BPP through a commercial camera lens, while also casting a large shadow around the image to amplify the projection and reduce light pollution. Multiple images can be cycled through using a laser up to 30 feet away to activate a servo motor. The projector base was designed for image and lense interchangeability and for reproducibility for future memorial projects.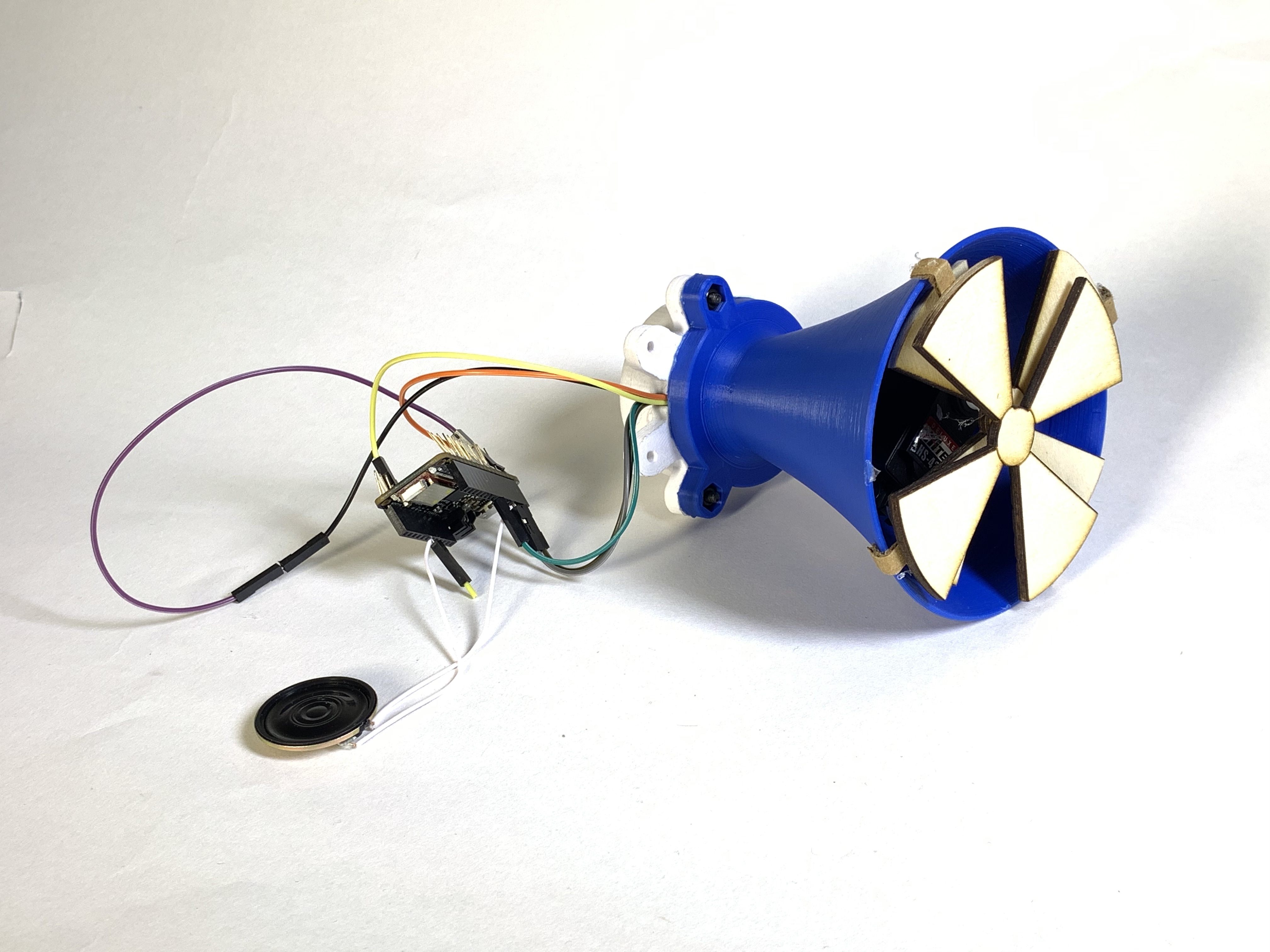 Social Media Voices
Trista Hu, Trent Storm, Apollo Thomopoulos, Alison Kuo
This protest object stands for Freedom of Thought. It is designed to demonstrate that on their surface, mainstream Social Media pretend to be platforms that promote such freedom, but in reality suppress it - through user data abuse (psychographic profiling), proprietary code, and obscure policies and terms. Our goal is to imitate the Facebook™ user experience, raise audiences' awareness of information filtering and encourage people to think for themselves and express themselves - freely. Therefore, we design a handheld megaphone, playing with the idea of making it no longer an object that amplifies our voice; instead, it blocks it to show Facebook's bubble.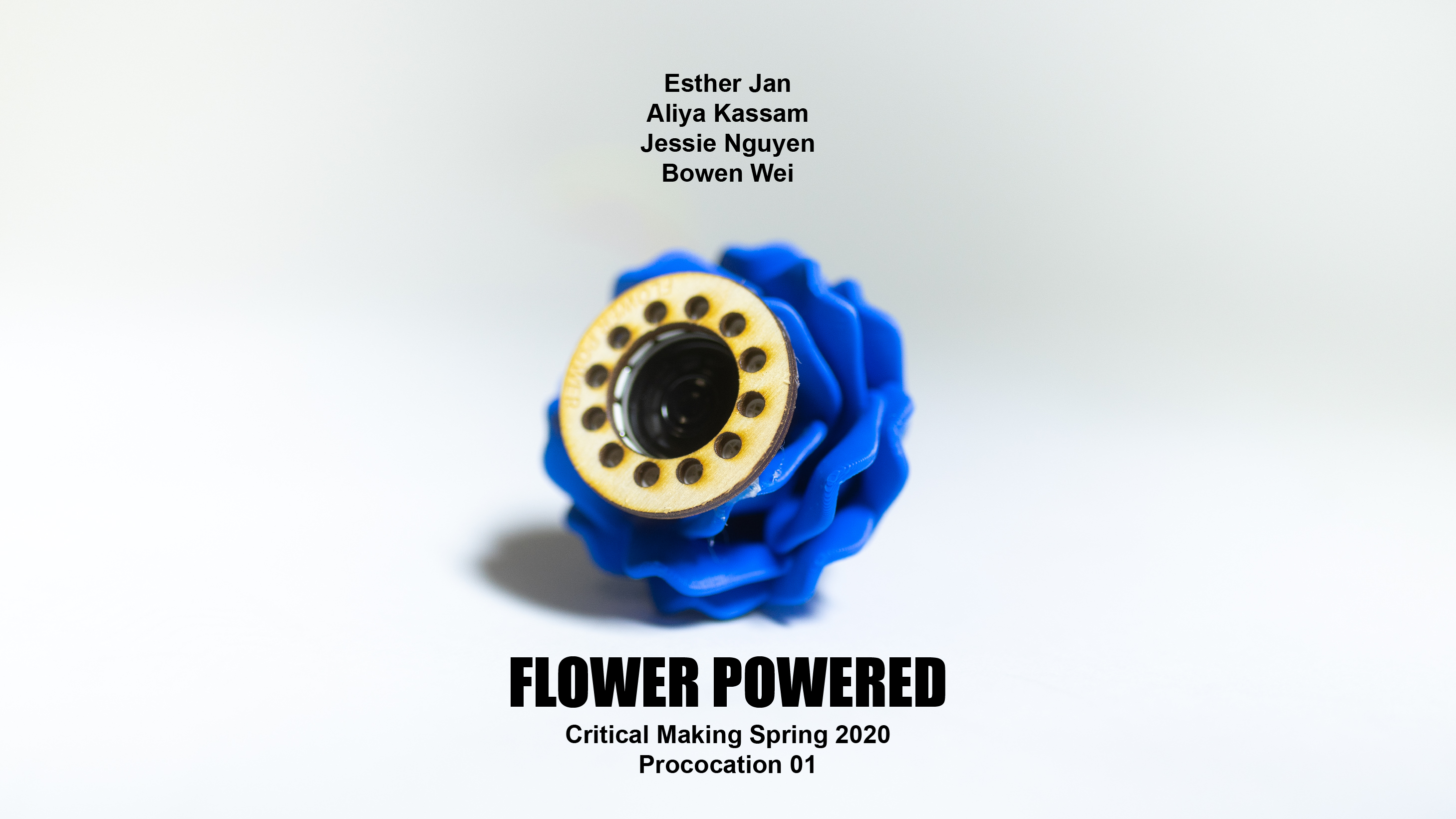 Flower Powered
Esther Jan, Aliya Kassam, Jessie Nguyen, Bowen Wei
We feel power in natural sounds when everything is silent. We wanted to build a product that can bring such power to people in a protest. Our name is inspired by an event that took place in Berkeley in the 1960-70s called "Flower Power", where protesters wore vibrant colors and gave out flowers to policemen as symbols of peace and nonviolence. We wanted to utilize those symbols to advocate against climate change. Our design revolves around combining sounds from nature, light patterns and building a sense of community. We designed a wearable button capable of interacting with other similar buttons through bluetooth. Indeed, each person will have a default color and associated symbolic sound when first receiving it. Before the protest starts, the button encourages protesters to build connections with each other by enabling them to exchange sounds and colors, creating shared light patterns and playing symbolic sounds in unison.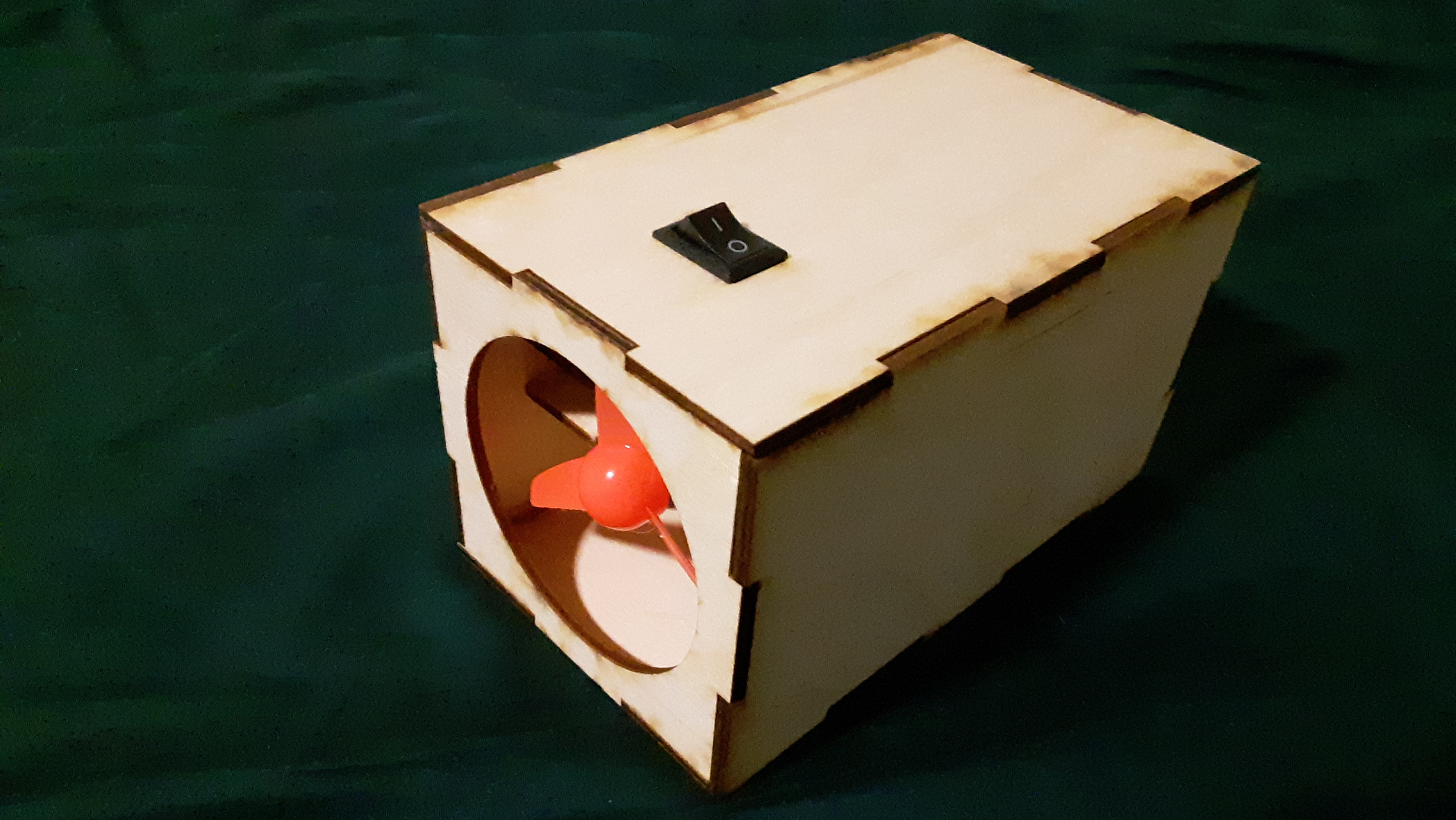 Build Your Own Pollution Absorber
Abhishek Bhagwat, Junyi Ding, Clara Orndorff
Climate change protests are global. This movement advocates big changes: zero emission transportation, completely eliminating fossil fuels, and other big goals. Sometimes it's hard for everyone to be a part of those things. But a unifying concept of the climate change movement is that together, people can make a difference. If everyone were to plant one tree, that adds up to a lot of trees. For this project we have designed a do-it-yourself pollution absorber that can remove particulates from polluted air such as smoke or smog. This is intended to be a project that anyone (especially kids) can build and bring to a climate protest, and then continue to use. The device itself is a good platform for further enhancements which would make it more interactive.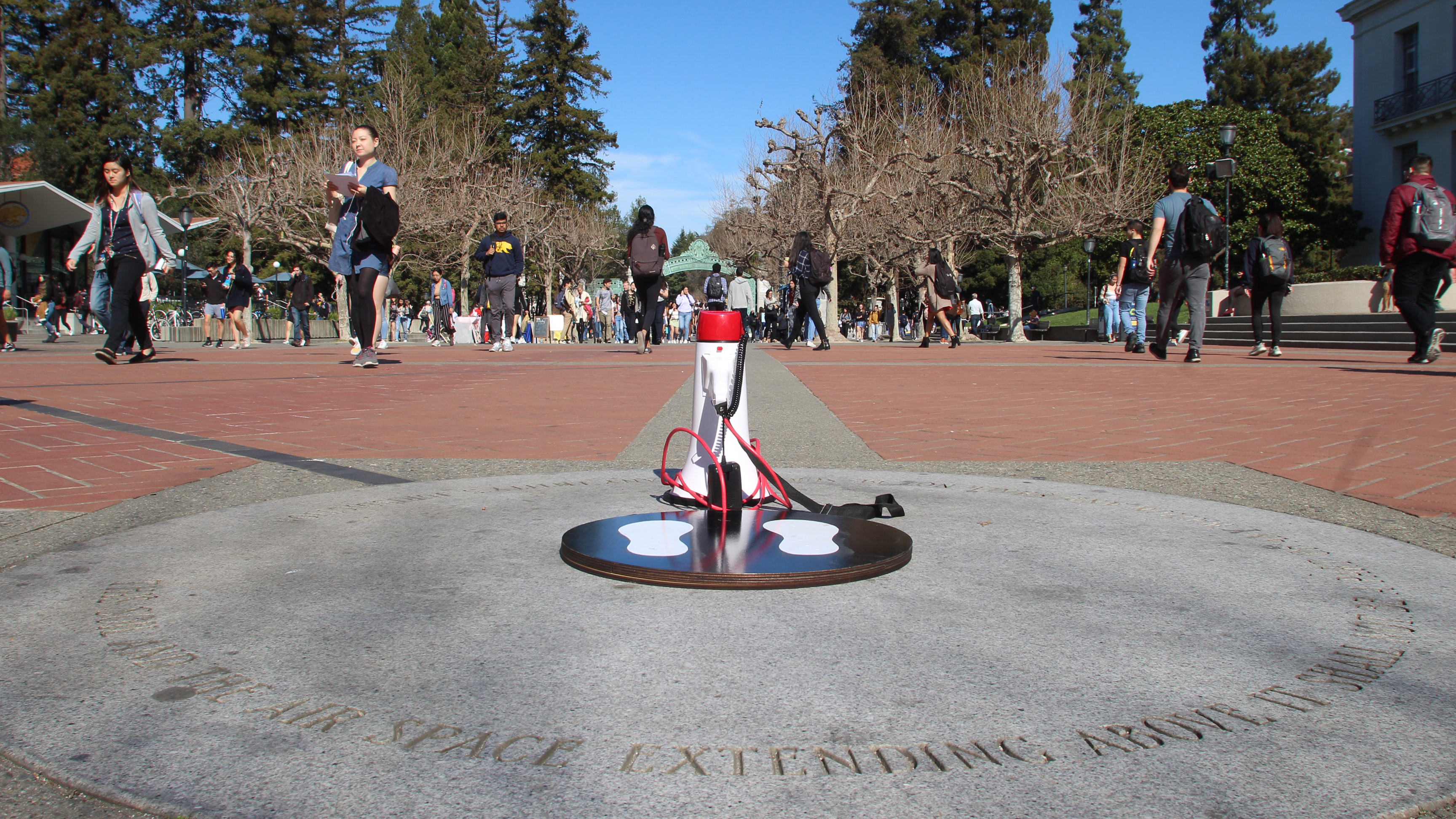 First Step of a Long March
Dorotea Debelack, Ani Gottiparthy, Leonardo Huerta, Jerome Wang
First Step is a protest design piece aimed at challenging complacency and encouraging participation in social movements. Using a megaphone, First Step plays audio from famous protest movements and inflammatory audio from speeches of authoritarian leaders. When a user steps onto the platform to where the white footprints indicate they should stand, they trigger the pressure sensor embedded in the platform, cutting off the recorded audio and toggling the megaphone to begin amplifying the user's voice. The symbolic act of stepping onto a platform and replacing these voices with your own is meant to demonstrate that despite how daunting it may seem to get involved in social movements, all it takes is a single step and a platform to speak. By placing this object on the Free Speech Monument, the piece reminds users of the importance of Berkeley as a hub of free speech and the power of protest.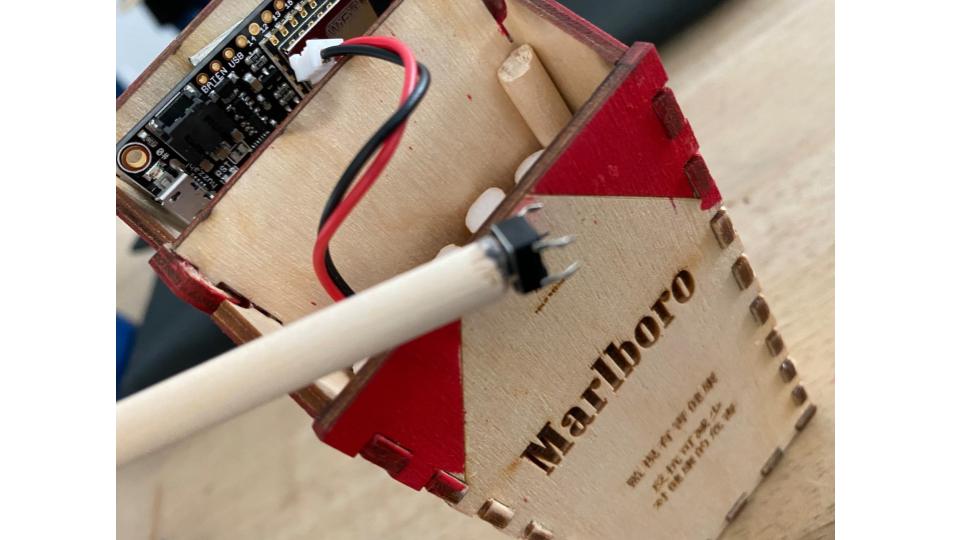 ID DEAUTH
Warren Lai, Michelle Hwang, Sophie Hsuan-hsin Huang
In June 2019, mass protests against an extradition law took hold of the streets of Hong Kong. The government's surveillance apparatus and its facial recognition technology tracked and monitored who the protestors are and their movements, often captured by the subway's or lamppost's CCTV systems. We developed ID DEAUTH, a lightweight object to attack and disable pervasive surveillance camera systems discreetly with a single-click. By disrupting devices and CCTV networks nearby, ID DEAUTH also gives the attacker the ability to broadcast coded messages via a mobile smartphone, such as Glory to Hong Kong ✊ as its network name. ID DEAUTH is cleverly disguised as an everyday object--a Marlboro cigarette pack--which can be interchanged with other objects or embedded into wearables easily. It is designed to protect the attacker and citizens' identity and right to street protests in a non-invasive, non-violent way while operating around frequent police searches and unreachable lampposts.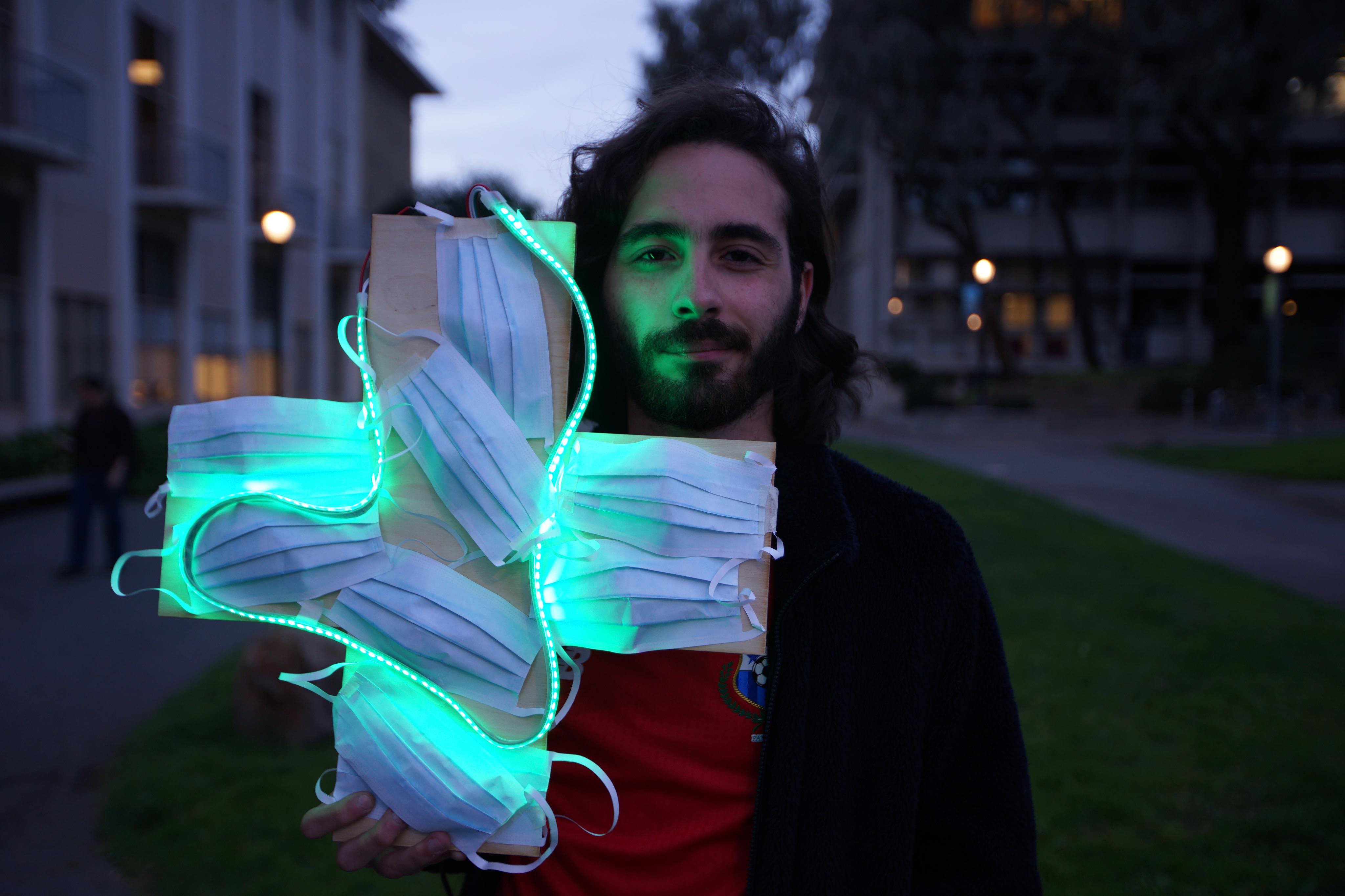 The Red Cross Has All The Masks
Rafael Félix, Guanqun Huang, Cui Wang
In February, the Red Cross in China got a large number of masks from international aid, destined for people in Wuhan, to prevent the spread of Coronavirus. Instead of distributing the masks to local hospitals, the Red Cross held on to them and distributed some to government officials. We condone the actions of the Red Cross, so we decided to create an object that would both mock and criticize the Red Cross, while at the same time invite people to take action. We created a green cross that invites someone to grab a mask and then disapproves of this by turning red and screaming at the moment people take it. Our cross is an art piece you could see in a wall at a museum, but could also be taken by activists to hospitals to raise awareness of the situation and mock the selfishness of the powerful.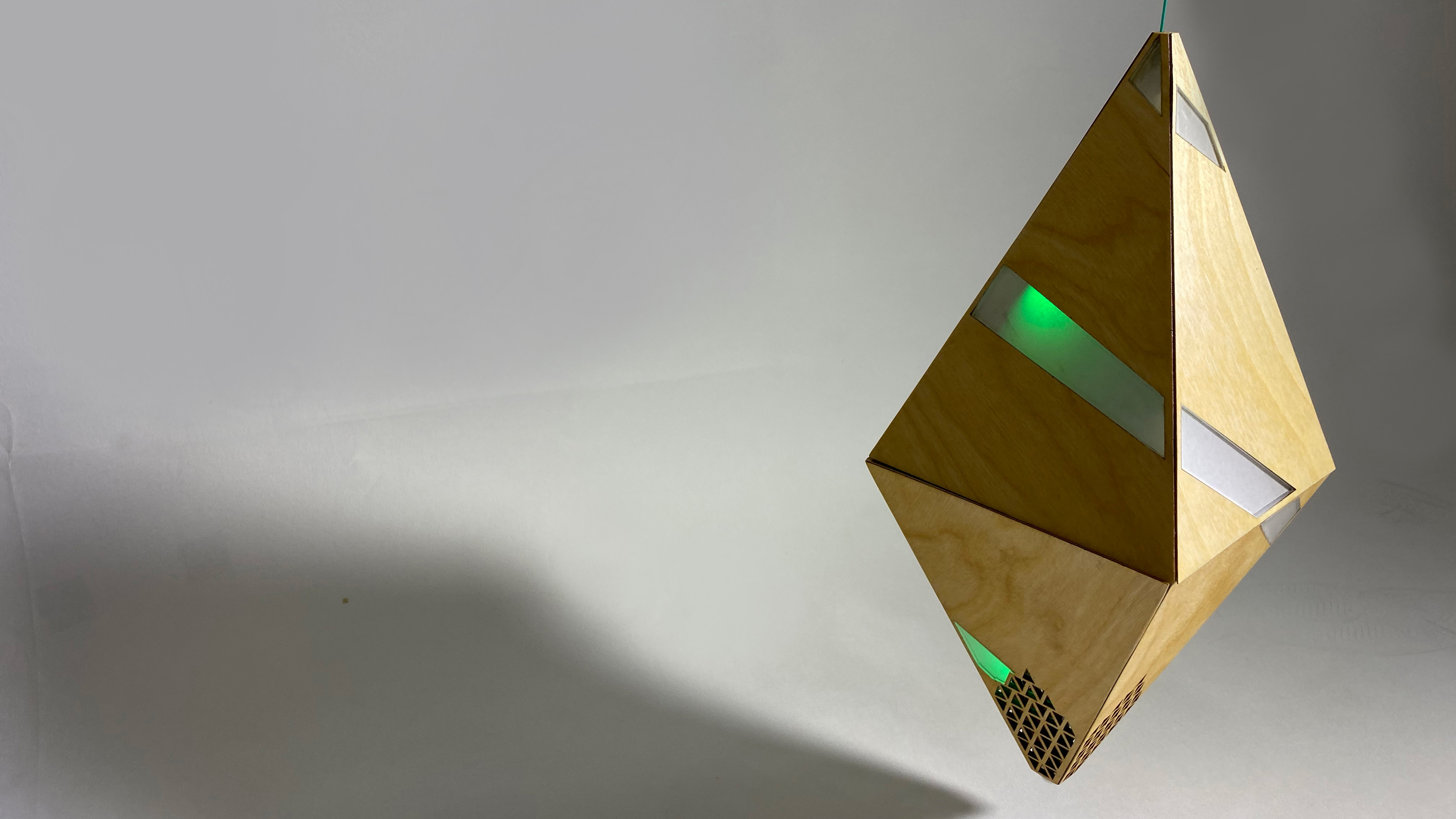 Sentry
Felix de Rosen, Tiffany Tao, Jack Wallis
Sentry is an interactive speaker designed to nudge people out of their daily routine by bluntly presenting the ubiquitous and implicit social pressures around them. It invades personal space by hanging at head level, uses a motion sensor to detect when people walk nearby, flashes LED strips to get attention, speaks authoritatively with dual integrated speakers, and retracts up and out of sight with a hidden winch system. Implemented on the UC Berkeley campus, Sentry underscores our implicit submission to capitalist values–specifically those having to do with the technology industry of the Bay Area–by encouraging students to derive self-worth solely from their success in the tech scene. By plainly articulating strong, implicit social pressures, we hope to make students more aware of, and ultimately less susceptible to them.
---
Provocation 02 • Move On
In this provocation, students were challanged to design or redesign objects used as part of human powered movement. Assignment: Provocation 02: Mov On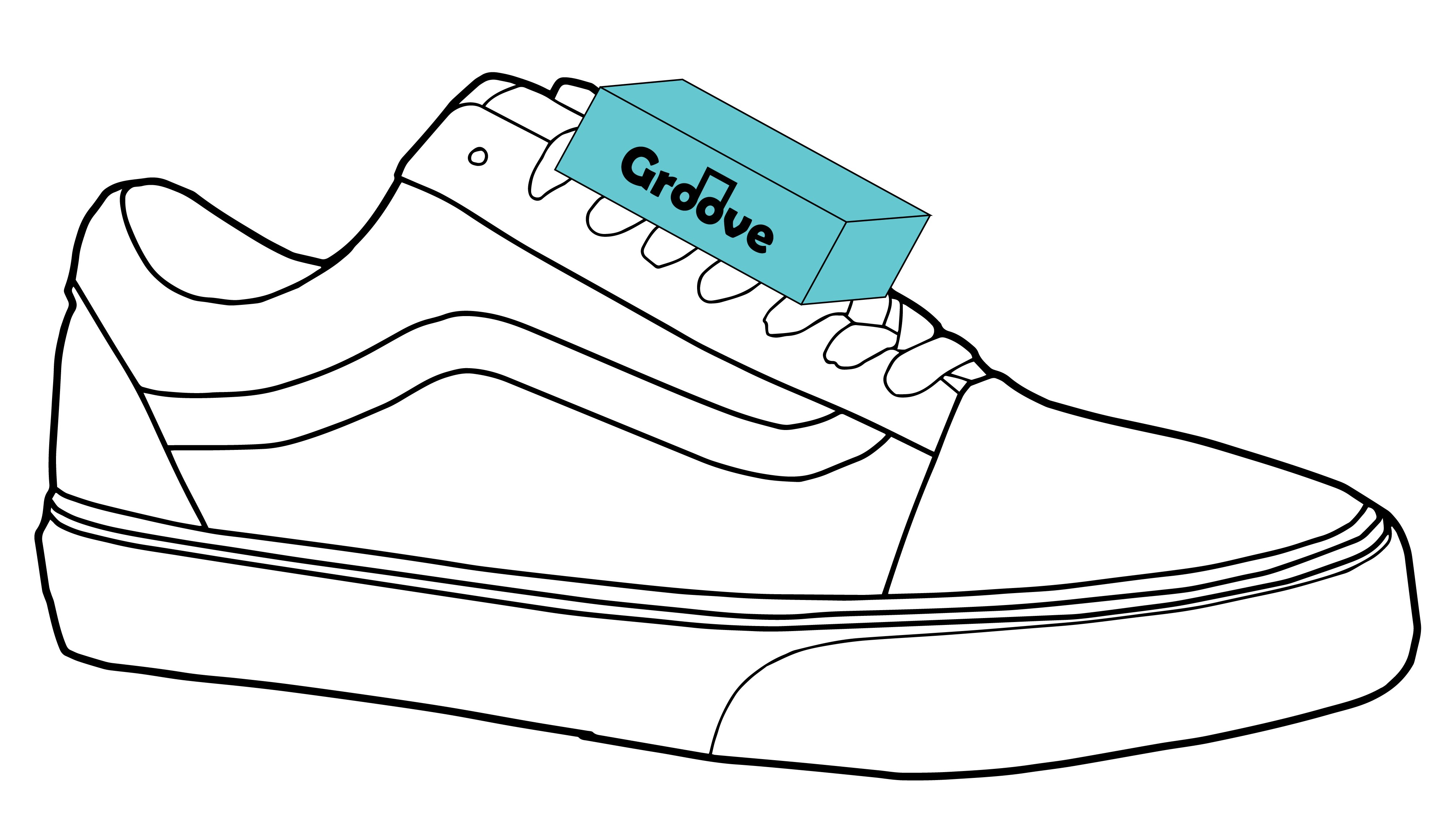 Groove Shoes
Rafael Félix, Esther Jan, Clara Orndoff, and Jack Wallis
A common problem when doing exercise is not having music that matches the mood. Research indicates that listening to music while running can boost step rate, heart rate, and endorphin release. We created Groove Shoes for runners that want to better enjoy the sport and that want to improve their performance while at the same time feel more motivated and less fatigued. Groove Shoes is a small box that laces into one shoe, detects footstep rate, and then play songs at the right BPM from your favorite playlists on Spotify.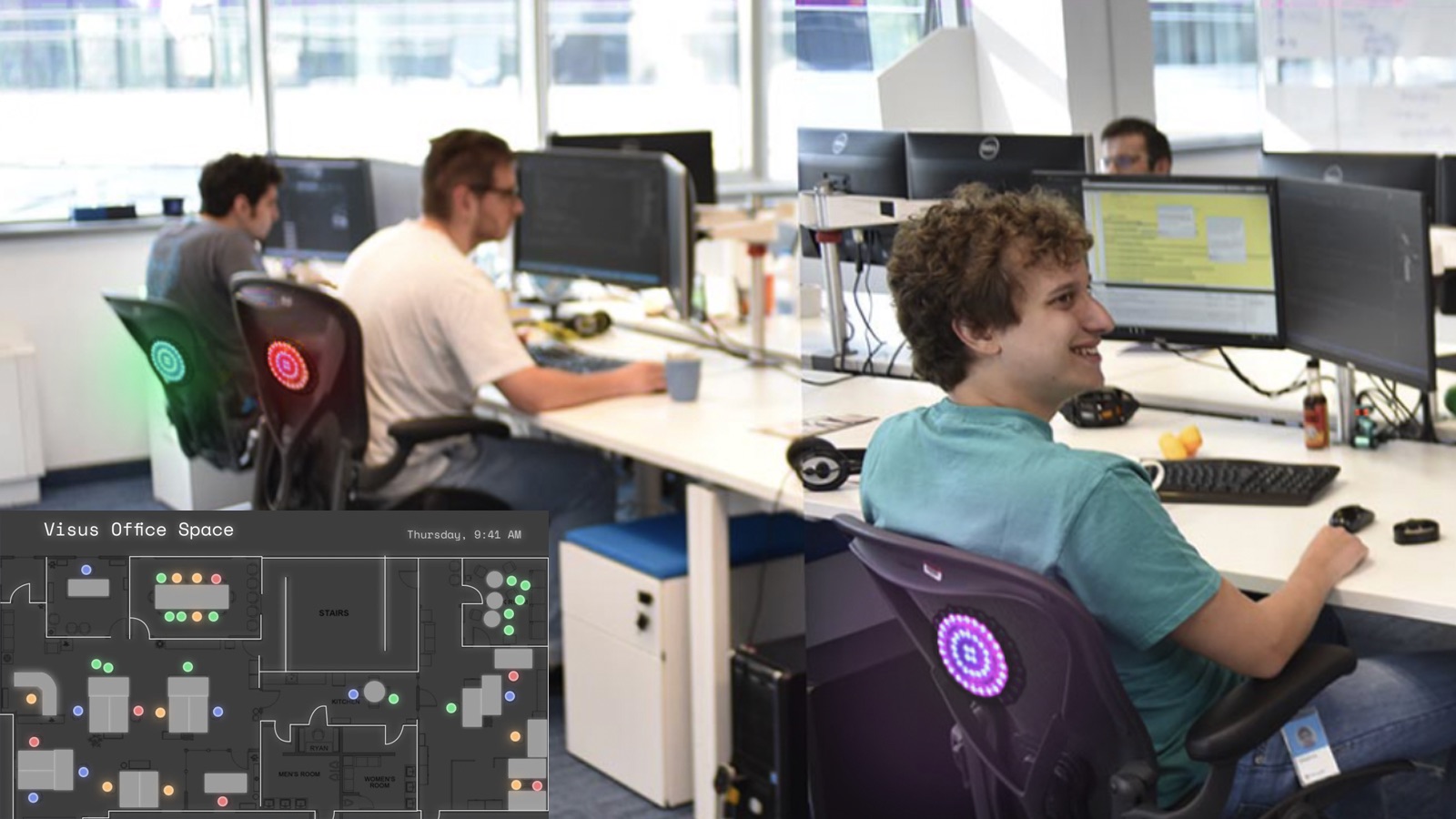 Visus | Real-time Visual Work Status
Leonardo Huerta, Trent Storm, Warren Lai
Have you ever wondered if it is a good moment to approach someone in your office? Well you won't need to worry about that anymore with Visus, a real-time visual work status of your colleagues. With one quick glance at the backrest of that person or at our top view UI, you'll be able to identify if a person is occupied, free or in need of support. Your chair automatically detects different movements that translate into status updates. If you want to focus on something, just move up and down as part of your ritual to get launched into action. If you require support, do a 360º view, same as if you were looking for someone. If you want to relax, just lean back and savour the moment. These simple gestures with your chair, will enable a more efficient and comfortable workspace for you and your peers.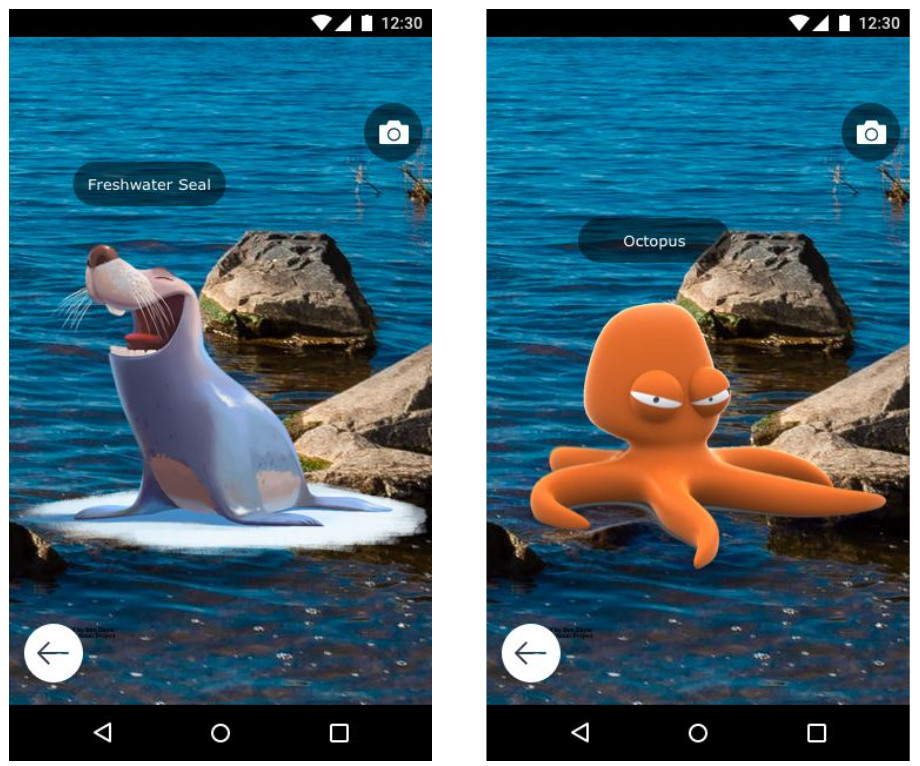 Aquatic Sense
Junyi Ding, Michelle Hwang, Jessie Nguyen, Maria Pettis
The mission of Aquatic Sense, is to keep paddlers and aquatic recreational explorers unencumbered by technology, while leveraging technological innovation and crowd sourced citizen science as a means of augmenting user sense and engagement with the natural world. This project is inspired by aquarium experience, where people attend aquariums to learn more about marine animals (through text, interactions, videos, live animals, etc.) and possibly interact with them. Our goal is to create an interactive stand-up paddle board experience that is fun yet educational. Users can learn more about marine life via AR experiences while contributing to iNaturalist, a citizen science project and online social network of naturalists, citizen scientists, and biologists built on the concept of mapping and sharing observations of biodiversity across the globe, by collecting and sending photos and observation data.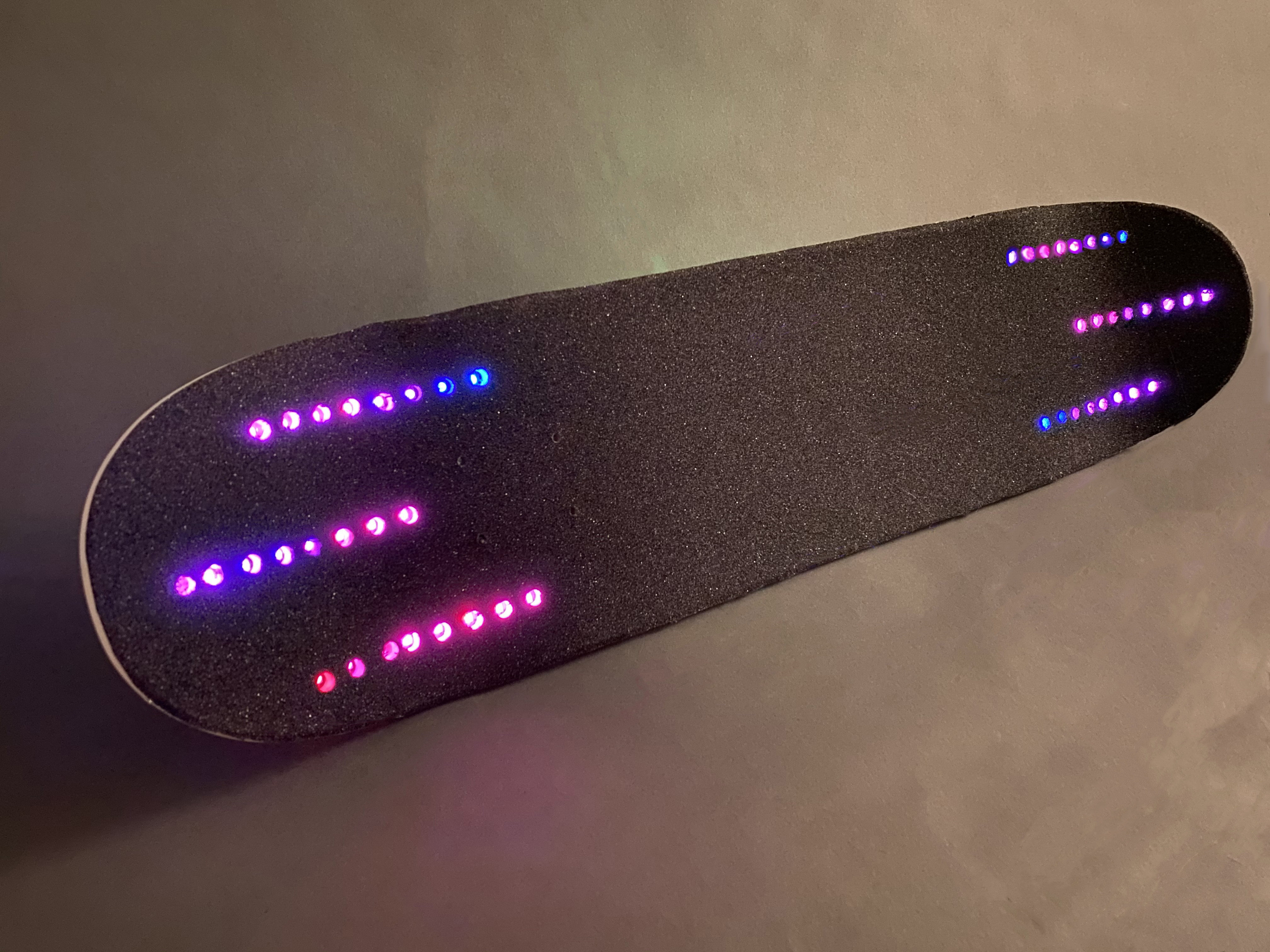 Enlighten
Ani Gottiparthy, Aliya Kassam, Alison Kuo, Mikio LaCapra
Enlighten is an interactive skateboard that teaches you how to land tricks with steez. On the app you can pick from a database of tricks from the basic ollie to the advanced tre flip to upload to your board. The deck will light up with LEDs to indicate where to place your feet and guide them as you send it. After attempting, the app will provide feedback with a digital model showing you how structured the trick was based on a comparison between real accelerometer data and an ideal model. Enlighten also connects you to the skate community, showcasing your skate progression through tricks you've unlocked and allowing you to upload rad tricks of your own and download them from others. Stack clips with your new bag of tricks with Enlighten!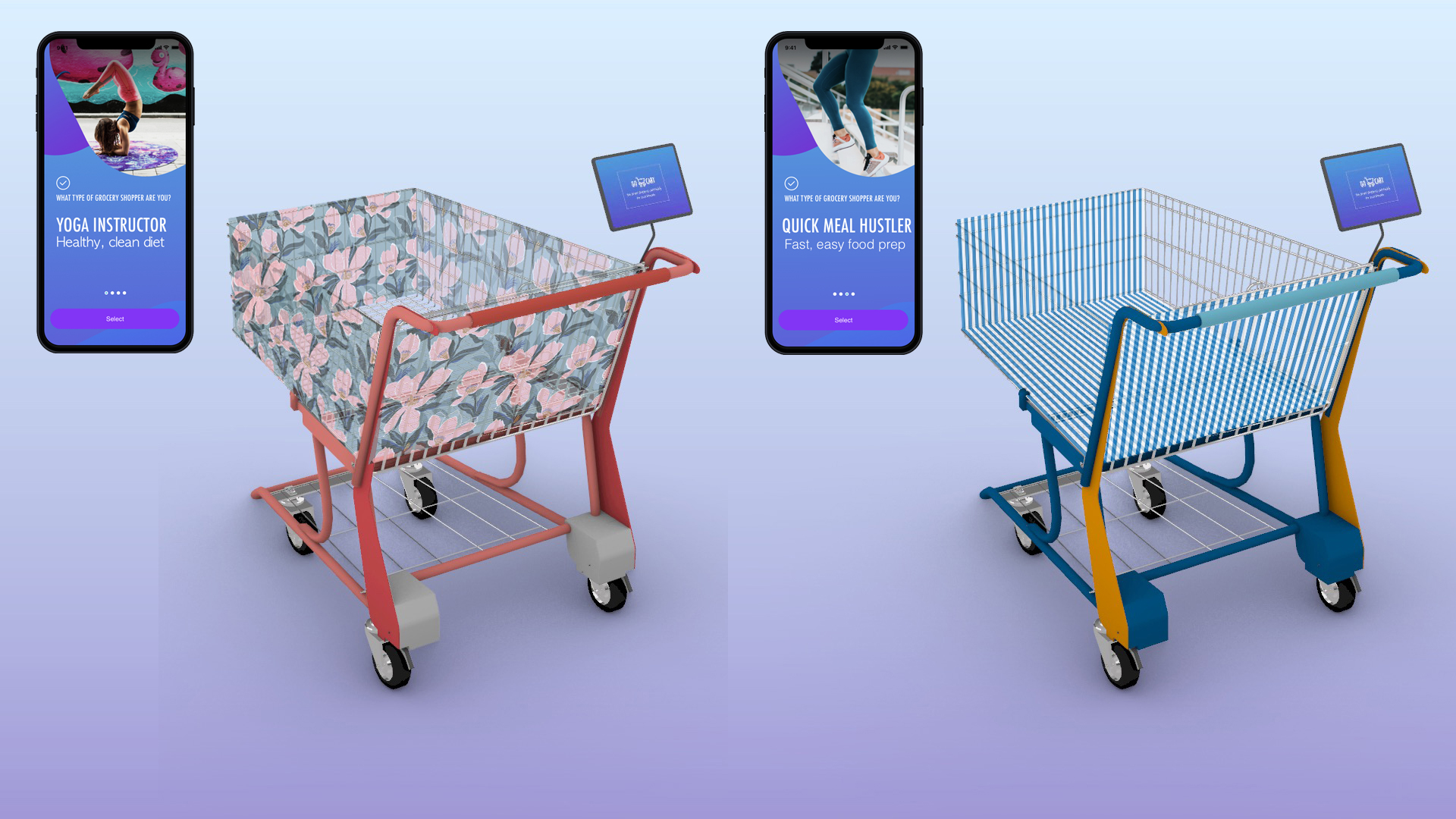 GoCart
Hsuan-Hsin(Sophie) Huang, Tiffany Tao, Apollo Thomopoulos, Cui Wang
GoCart is your friendly, neighborhood grocery cart that acts as a shopping companion. In a world with so many choices, choosing the right foods for you is a constant challenge especially since everyone isn't the same. First, GoCart helps personalize your grocery runs through a quick and easy survey. However, GoCart doesn't stop there. At the grocery store, GoCart helps encourage good behavior and discourage bad behavior with haptic feedback through shakes and vibrations and audio cues. It is personality generated according to your preference, as well as a customized look. Beyond a shopping cart, GoCart is no longer a tool in the grocery, it is your buddy to help you become a better person.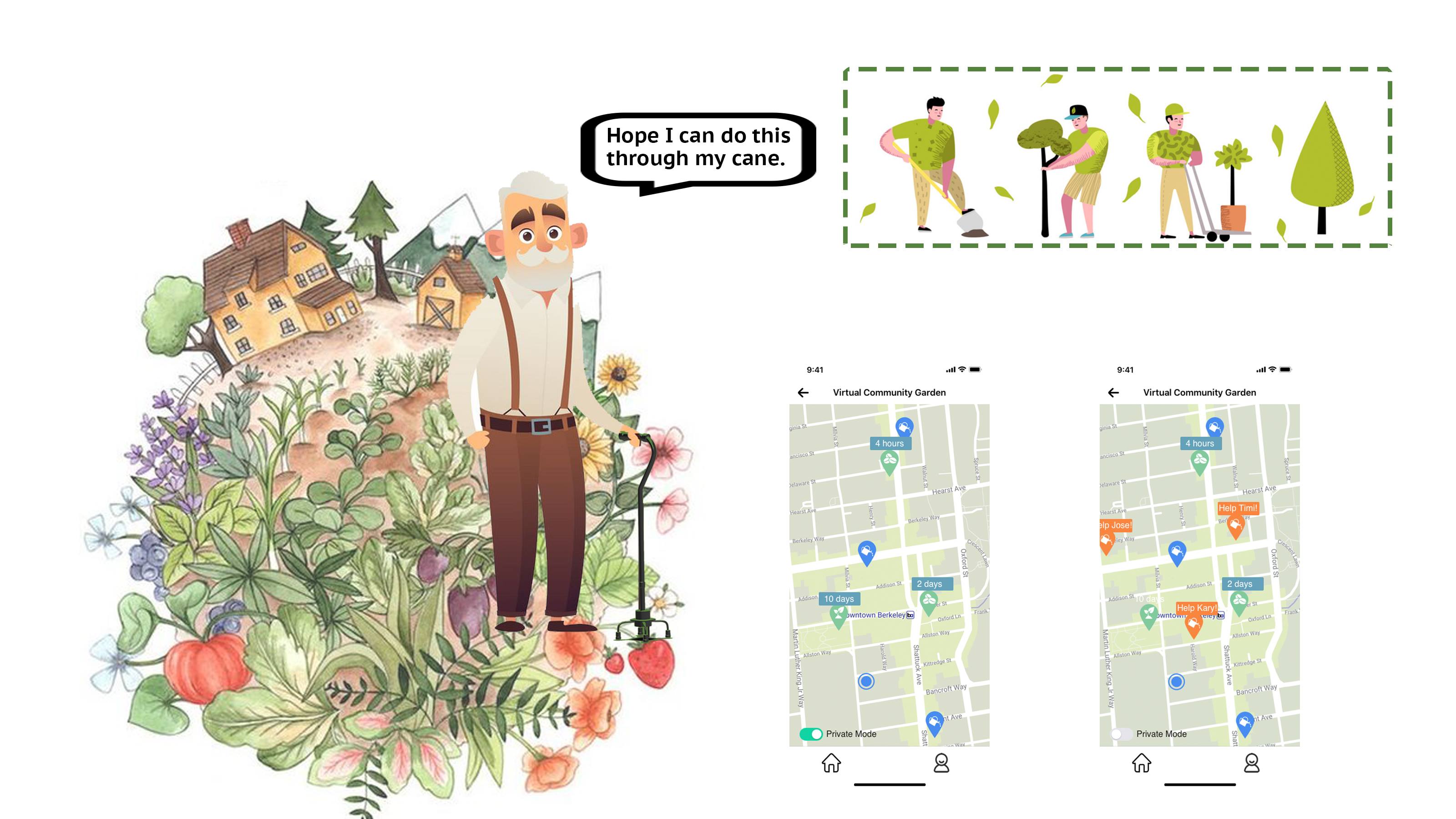 Seederly: Community Gardening Cane
Trista Hu, Joymaneet Kaur, Katrina Roth, Jerome Wang
Seederly is a special walking cane that allows the user to plant and water seeds during a typical neighborhood stroll. Using a servo motor attached to a rotating dial, the user can press a button to drop the seed on a patch of soil. The cane also has functionalities to carry water from home or take up water from nearby sources on a path and eject it over the seeds as well. Lastly, every seed planted can be digitally monitored on a virtual map that family, friends, and community members can see.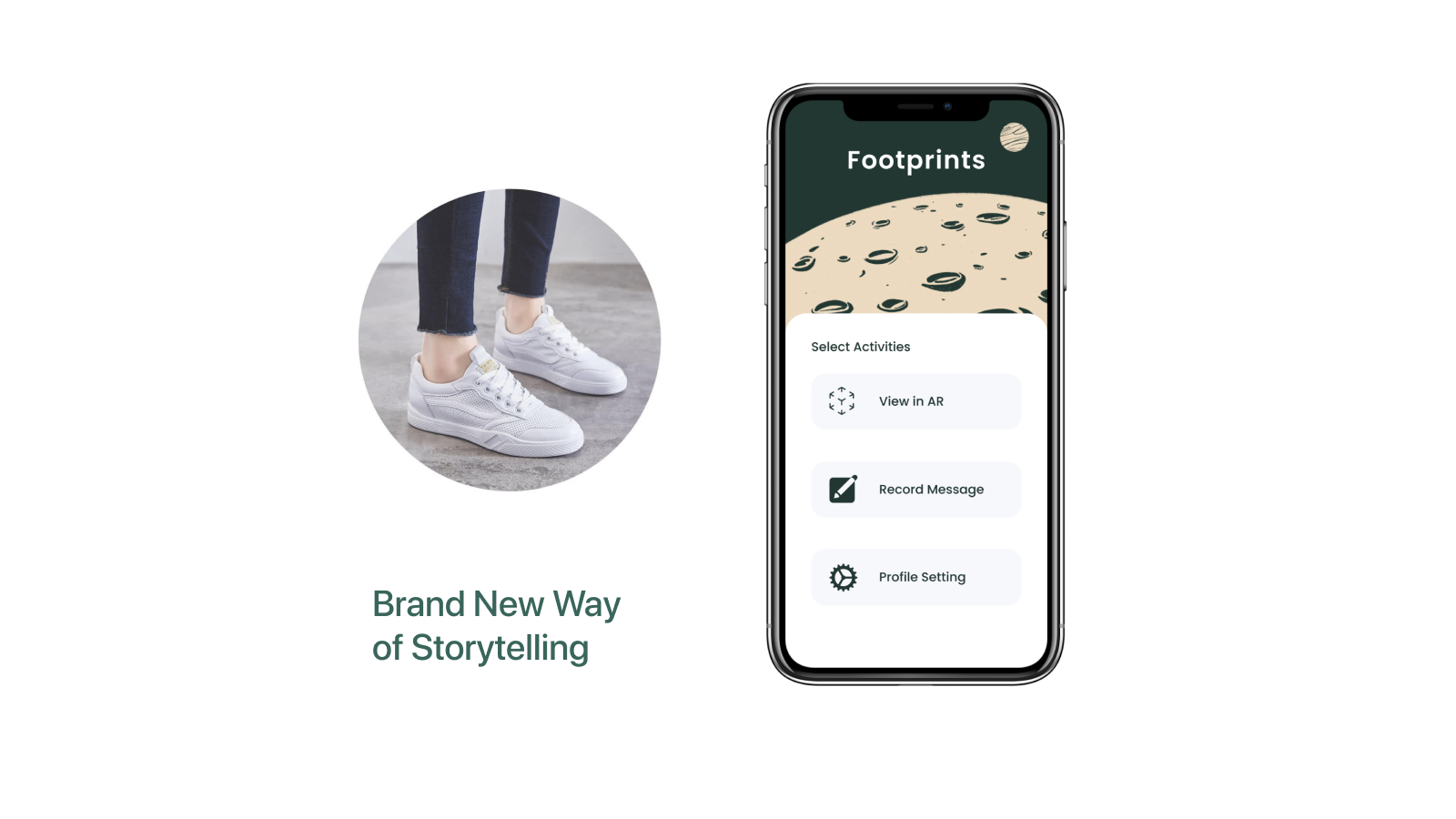 Footprints
Bowen Wei, Dorotea Macri, Guanqun Huang, Abhishek Bhagwat
"Footprints" reframes the prevalence of personal data tracking and storage, allowing users to reclaim their own data for the purpose of personal storytelling. The shoes record the user's movement with an embedded GPS tracker and a paired mobile app allows the user to attach messages or notes to the path, if desired. With the AR view, users can see the personal footprints trails with the associated message, allowing them to visualize their past movements and experiences in a particular space. Users can choose to make certain paths public, allowing others to visualise historical events and social patterns in a given space. Users can choose their color and text to represent their footprints. These limited customization choices provide users flexibility and remain the minimalism of our product. To ensure privacy, users have the option to either keep the path private or share it with the public.
---
Material Archaeology • Field Activity 05
In this Field Activity, students were asked to undertake a scavenger hunt to locate and document 20 unique artifacts that could be used for prototyping. These were objects and materials that students had access to for prototyping within their COVID-19 sheltered locations. Assignment: Field Activity 05: Material Archaeology
Using the link below you can view all 514 artifacts that were "discovered" and labeled. Hover over each image for its label/name.
Click here to view all 514 artifacts
---
Exquisite Design • Field Activity 06
Students were provided an incomplete video of a user experience. In this Field Activity, they were asked to complete the video interaction by adding audio, additional overlays, and/or their own video sources. Two different incomplete videos were provided to students. In each video below, the provided incomplete video is shown first followed by the 22 different student "completed" versions. Assignment: Field Activity 06: Exquisite Design
---
COVID-100: Artifacts and Stories from the COVID-19 Event of 2020
Last year marked the 50 year anniversary of the Apollo 11 moon landing. Many artifacts and exhibitions were showcased in celebration of this event. The year before that, 2018 marked 100 years since the end of World War One. Again artifacts were showcased to recall the triumphs and tragedies of that history.
COVID-100: Artifacts and Stories from the COVID-19 event of 2020
It is 2120, one hundred years from today. An exhibition is being curated that will capture the experience of the COVID-19 crisis of 2020 and communicate the stores and experiences from that time. Select one COVID-19 artifact that you would suggest to a historian 100 years from now to be included in this exhibit. Assume that there is already a portion of the exhibit dedicated to medical response so please do not suggest masks, swabs, respirators, etc. Think beyond that part of the exhibit. What would you suggest to the curator 100 years from now? Imagine a small child or young adult, unfamiliar with the 2020 COVID-19 event. What artifact would you include to communicate this history to them? Briefly describe your suggested artifact in a short paragraph of 500 words or less. You can also upload a picture (optional) if you like.
I recently came across a viral video of a story called "
The Great Realization"
by Tom Foolery. It is a video of a father telling kids a bed-time story of life of people during and after the Covid-19. Inspired from the video, I feel that apart from the medical artifacts like masks, swabs and respirators, what should really be preserved for years in its originality is the real life experiences and stories of people. Covid-19 pandemic is a historic event which should be grasped while it is taking place to note the process of going through it. The historical exhibition can create a real spark if it can take the visitors back into the time to experience what its like to live that kind of life. For instance, a diary of a World War soldier is more captivating than the remains of an artillery. The voice records of front-line workers like hospital staff, grocery store runners, cleaners or students attending classes from home or employees working from home would capture all the positive as well as challenging aspects of the pandemic. There will be number of objects associated with all these people which can be an ideal artifacts to preserve. There could be photos of empty shelves in the grocery stores or photos of long queue outside stores or sales records showing sudden boom in the demand of toilet papers. The way there are famous articles written by leaders and activists from jail, there could be breakthrough projects resulted from the shelter-in-place. Businesses that are still thriving in these unprecedented times could present a model of successful collaboration over digital platforms. But, there will be an underlying story with each of these artifacts which will not only contain the final form of it but a journey of its evolution.
— Abhishek Bhagwat
Love Do Conquers All
The story I want to share 100 years after is a love story. I met with this newlyweds years ago. The girl who was an international student met her husband at the time she came to America. He was her campus buddy back then. The girl like to post their stroies on social platform. They love each other just like every other couple. Recently, just might be the darkest period of COVID-19, they host a online ZOOM Wedding .I know recently the world suffers a lot. My boyfriend broke up with on the day the government proposed Shelter-in-place regulation. But the things happened next really made me realized that I was loved more than I knew –Friends, parents and even a kind stranger. Time is strange and tough, yet someone will always be your sunshine. There will always be someone pull you out of this darkness. If not, you are your sunshine.
— Junyi Ding
I was thinking that a device that would be very helpful right now would be a device to share personal and intimate experiences with family members. One of my best friends live in Lima, Perú, and he was telling me how he used his short non-curfew hours to see his grandmother from a 10-meter distance. An important problem right now on this coronavirus world is that many people cannot share experiences and moments with the people they love, especially if they do not live with them in the same house (even if they do in the same city). A hypothetical device that I will call ShareSense should be able to help with that. ShareSense keeps track of your dopamine and serotonin levels and captures the moments when you are happy. Then, ShareSense replicates this feeling and rebuilds the moment using an integrated camera and sending electric pulses to replicate the sensations you felt to the family member you want to share your experience with. ShareSense will be remembered after COVID-19 because it was a safe way of sharing experiences and feelings with your at-risk family members without endangering them.
— Rafael Felix
One of the most important artifacts for understanding the Covid-19 period is the human habitat in the years 2019 and 2020, the home. I would suggest that the curator of the exhibit dedicated to this era places a significant emphasis on the different aspects and functions of the home that regained a once lost significance during social distancing. A lot of our culture became consumed by productivity and work prior to the pandemic, giving the office, school, café, bar, and other public spaces increased significance to the detriment of the home. Once forced back into the home, the dining table, kitchen, backyard, and other areas of the house that were neglected became prominent aspects of daily life once again. The home, for many, changed from a place of rest between trips to the outside world to a place for family time, leisure, work, privacy, and exercise among others. Like it must have been for most of human history, our lives revolved around our homes once again. If I were the curator of this exhibit, I would design it so as to explain the different functions the home served. By the year 2120, the world has resumed its journey of progress and the human habitat as we know it today will not exist. By then, we will live in pre-furnished and identical Airbnb apartments that we pay monthly subscriptions for. The kitchen portion of the Covid-19 exhibit should thus show how families used to work together in the labor-intensive activity of preparing food, eating it together, and then cleaning up after- a foreign concept for a generation who have had automatic kitchens 3D print their meals for years. The backyard exhibit should show parents playing with their children and planting gardens. The smog has since permanently covered the sun and such activities will also be seen as interesting historical practices. A living room portion of the exhibit could show a family watching a movie together. By 2120, hyper-personalized virtual reality entertainment has replaced films, and this activity is done alone. A treadmill or pull-up bar can be used to show how humans used to exercise and stay active in the past, before automatic Electric Muscle Stimulation technology was developed and widespread. Basically, this exhibit should be an IKEA.
— Ani Gottiparthy
I would recommend one-meter hat as the specific memory for COVID-19 crisis. COVID-19 spreads mainly among people who are in close contact for a prolonged period. Spread happens when an infected person coughs, sneezes, or talks, and droplets from their mouth or nose are launched into the air and land in the mouths or noses of people nearby. Due to this epidemic, people have to practice social or physical distancingand stay at least 6 feet (about 2 two meters) apart from other people to avoid disease distribution. Currently, Covid-19 has almost been under control in China. People start to go back to work, students go to school and tourist attractions reopen gradually. But recent studies indicate that people who are infected but do not have symptoms likely also play a role in the spread of COVID-19.Therefore, people still can't let their guard down. It's still necessary to not gather in groups and stay out of crowded places and avoid mass gatherings. Therefore, people invent this one-meter hat which has a one-meter rod on each end of its brim to notice people keep physical distance all the time. It's inspired by the costumes of ancient Chinese officials. First, it was introduced in primary school since children tend to keep close with others. But the rods were made by cardboard and cannot keep straight horizontally for long. Gradually, it just for fun and lose its original meaning. Then, people use the balloon to replace the cardboard which can last longer time and more effective. Now they're widely used in tourist attractions and become a special and interesting scene during COVID-19 crisis time.
— Trista Hu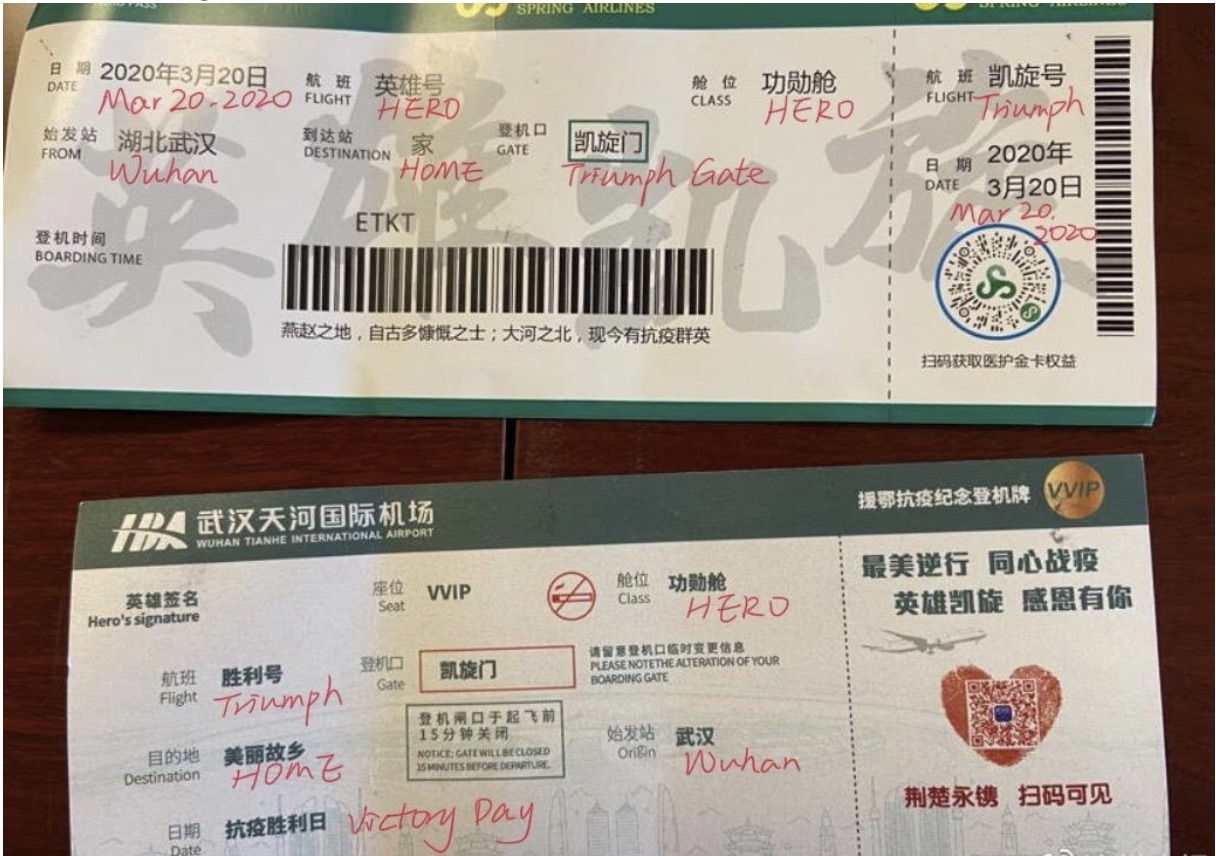 Precious boarding pass and air ticket
The protagonist of this story is Chen Sun, a nurse in the emergency ICU of City Cang Zhou Integrated Traditional Chinese and Western Medicine Hospital, and one of City Cang Zhou first supportive medical teams in Hubei. This is the boarding pass and the air ticket he got back home from Wuhan. In the boarding pass and air ticket, the name of the flight is Triumph, the destination is HOME, the class is HERO and the date is Victory Day! Congratulation to his victory and thanks him!!! After arriving in Wuhan, Sun Chen devoted himself to the rescue work. After he successfully completed his mission in Wuhan, Sun Chen and other angels along with him took thep lane and set off on their home journey. Air tickets and boarding passes become the most special commemoration of this return journey. Before boarding the plane, Sun Chen and his colleagues each received a boarding pass and a VVIP (super VIP) flight ticket. "I was very heart-warming after seeing this plane ticket. Especially when we stepped on the plane, fastened our seat belts, and the moment the plane took off, many of us wept." Sun Chen said that after an unforgettable time, he had a strong emotional connection to the city of Wuhan and the people there. At the beginning of the outbreak, he actively responded to the government's call. After placing his family, he immediately went out with the team and went to the front. During the anti-epidemic period in China, many doctors were like him when Wuhan was in danger of survival, they devoted themselves to the medical career they loved. They jointly completed the great feat of clearing new patients in Wuhan today which get widely praised in China and internationally. Like the boarding pass and air ticket say, we win!!! China has won!!! In the meanwhile, we hope the US government can take action quickly and try to learn from China to be successful against the COVID-19. There is also a passage written on the ticket: on the land of Yan Zhao, generous peoples in ancient times; in the north of the river, there are anti-epidemic heroes today ...Hope no pain in the world!
— Guanqun Huang
In 2120, as a curator of the COVID-100 exhibit, I would like to show future generations artifacts, such as photos or videos of public space and emergence of new digital social space, during the thirty-six-months-long pandemic. To those who are unfamiliar with the crisis, they can observe how people have moved and socialized in public spaces differently than times prior to Covid-19. Due to public health guidelinesand prevention of virus from spreading, the onslaught of social distancing required people to stay 6-feet apart from each other and prohibited congregation of groups more than 10. This had an important sociological change and visual pattern to the ways people commute, move, or interact in-person. In terms of transportation, for example, the same three-seats bench of a bus stopcould have sat a total of three people prior to the crisis yet can only accommodate oneperson now. Hence, there is more public dismay, assault, and argument over who gets priority seating. Another example is the capsule or isolationist approach to public transportation; airlines are not only forbidden to sell beyond a maximum ticketed capacity of one-third of all physical seats but also adapted to using protective sealant foreach passenger. Essentially, each seat becomes an individualized pod of its own with an independent system of air circulation and ventilation that is isolated from air systems of other passengers. In the physical world, photos or videos of crowds more than 10 are nowhere to be found, compared to the commonplace party scenes of college Greek society in days prior to March 2020. Moreover, because public movement and life became restricted, social conversationsand spaces were carved out in the digital realms, e.g. zoom classes and UC Berkeley's graduation in Minecraft. Synchronous social activities on video conferencing platforms became a thing. People watched movies or colored books at the same time in different locations yet can be understood as "together, while apart." Memories of bonding are saved as screenshots of screen devices, not as photos of occupying the same temporal time-location. Furthermore, turning door knobs or pushing buttons of elevators or moving shopping carts by physical force became artifacts in so much that they can only be actuated or activated based on an mobile app or voice activation or EEG device or motion sensor or sanitized remote controller after the onset of the pandemic. These artifacts were deemed conducive to virus proliferation, so architects, industrial designers, and engineers all innovated to mitigate these high-risk public objects orpoints of use.
— Sophia Huang
The COVID-19 artifact that I would suggest to a historian 100 years from now to beincluded in this exhibit is "Economy Class Airline Seats". Pre COVID-19, the airline seats were designed to fit as any people as possible without considering the spread of germs. Seats in economy class are packed into a small, enclosed space with a crowd of people. However, post COVID-19, the economy seats will very likely be redesigned to promote social distancing and personal hygiene. I would recommend the historian to showcase "the history and evolution of Airline Seats from 2020 to 2120" in the exhibit. An Italian company, Avio Interiors, has already released a new seat concept that is designed toreduce the spread of germs in these notoriously tight spaces. The concept reverses the position of the middle seat so that it faces the back of the plane and separates passengers in the same row with a transparent guard that wraps around the sides and back of eachseat. Hypothetically, this would prevent you from spreading germs to the passengers on either side of you, even though you're mere inches away.
— Michelle Hwang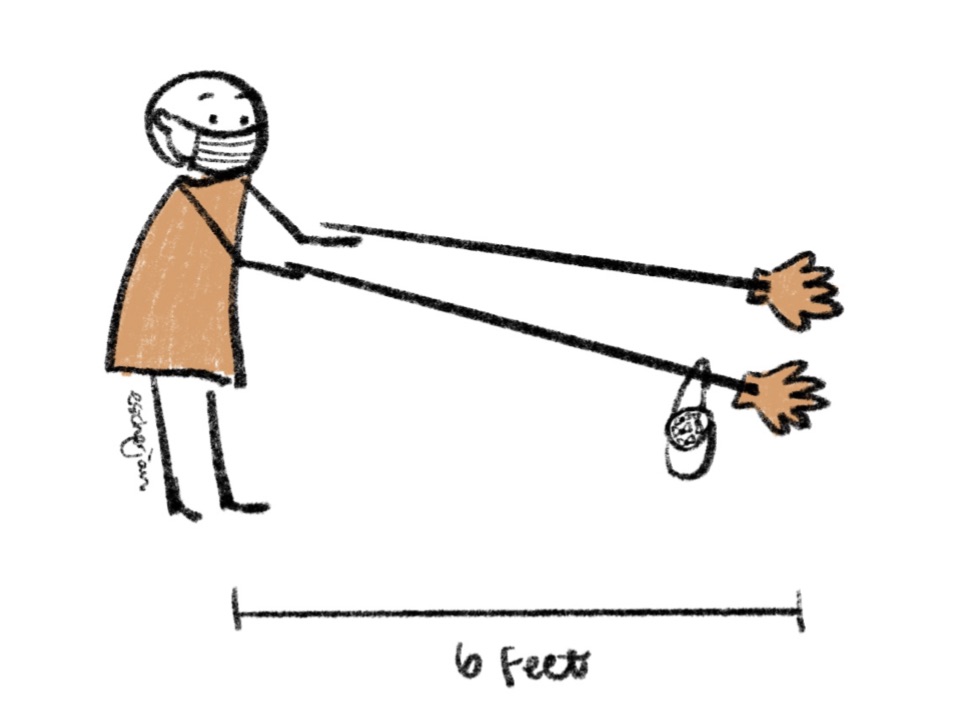 COVID-19 had a significant impact on our global living environment in 2020. To avoid immunization, not only were in-person classes and work meetings had to turn to remote, but even in the churches, weekly sermons went online. We had to turn on our computers every Sunday mornings, worship alone at home, and listen to the preaches.At such a difficult time, our pastor knew that many people might feel especially lonely and helpless. He thought of a way to express his love and care to every member of the church while maintaining social distancing. He found a pair of plastic gloves, stuffed them with soft materials, and then tied them to two broomsticks, like the long arms of a scarecrow. With these two broomstick-arms and a pile of packed candy baskets, he drove from door to door to visit the members of our church. Every time he arrives at a house, our pastor will remain the safety distance of six feet, hang the candy basket onto his long broomstick arms, and put the candies in front of the member's house. Then, he would give a gentle pat on the shoulders of the member with that long arms, sending his warm wishes to all of us. We call it social-distance-hug, and we all loved it. Although we are all looking forward to the shelter-in-place policy to end so that we can return to the in-person sermons again, and express our concern for each other face to face. Our pastor showed us that love and care could be express through creative ways that are not limited by the circumstances we're experiencing.
— Esther Jan

Back in 2020, many people used Zoom to keep in touch. It was particularly a great tool because people could use virtual background and make them (or the people they are talking to) think they were in a different setting at a time where they couldn't go out. In the exhibit, you could have a computer with Zoom on it and people could see themselves in different virtual background. Some children will have some trouble understanding why such inventions were used and enclosed in such a tiny box. Plus, people's surrounding only change on this little digital interface, not around them. Seems pretty lame and archaic. Indeed, now, people can change their entire surroundings to whatever they want with AR/VR lenses. They can even talk to people and see them as if they were there without needing to stare at a screen. Plus the people and virtual surrounding would actually change as they move making it impossible to tell that you were not actually with them/there in the virtual image.
— Aliya Pirbhai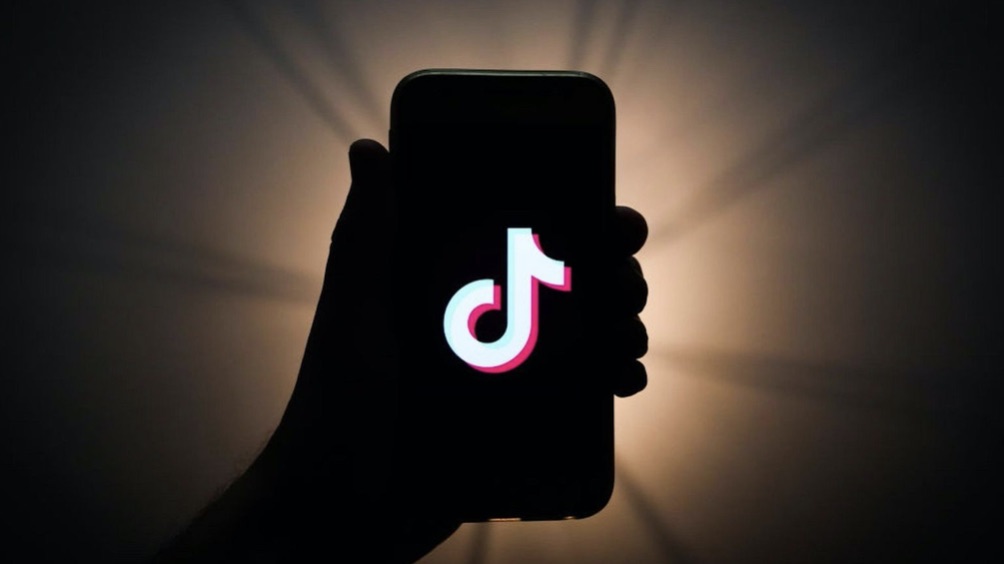 Hands-down the Tik Tok app. There is no way that the Tik Tok app would be excluded from the artifacts and stories of COVID-19. Tik Tok and all the trends that it has set with it are without adoubt what keeps me, and the other 800 million people who downloaded the app, going everyday. It seems that everyone is on the app, from the Washington post, to financial analysts, to Meg the Stallion, to chefs. It seems to transcend any generation divide and bring family together during this quarantine time when everyone is stuck at home. It also has set viral trends, from homemade bread to dalgona coffee to the savage dance challenge, it has people trying new things and finding unique ways to pass the time. It connects people with music, pop culture, and also niche interests. The algorithm for the app is unparalleled with any other social media platform. It curates a feed for you based on your watch time on videos and strategically gives you more videos like the ones you like and watch for longer periods of time, keeping you glued to the app for hours. The average user spends 52 minutes on the app and 9/10 users use the app multiple times a day. While it started as a gen-z platform, during the quarantine, it has definitely reached a larger audience and has become the most downloaded app on the Apple App Store. It keeps people connected more than other social media platforms do because of its short-style videos and keeps people engaged with its constant strolling feature. I find myself on Tik Tok everyday learning a dance challenge, watching Lebron dance with his kids, and hearing people's theories about how the Tiger king is innocent. It is the ultimate source of entertainment during COVID-19.
— Joymaneet Kaur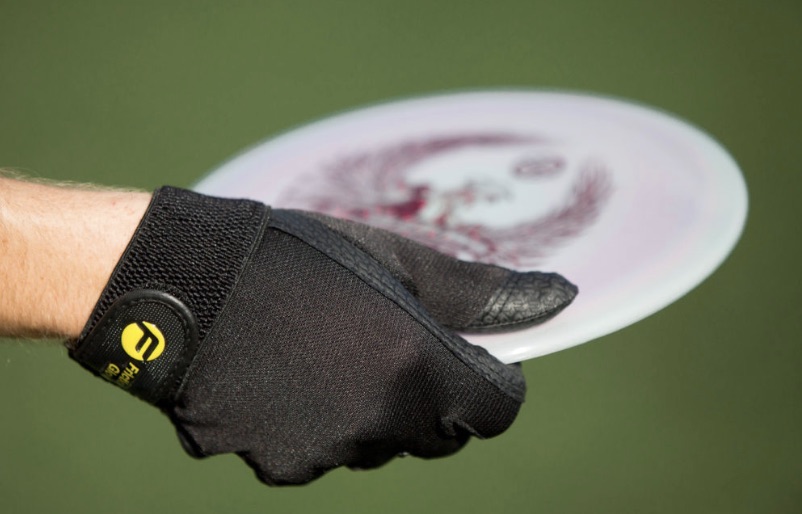 A Frisbee
I heard a story the other day about a dad who was playing with his children in their backyard when their neighbor's frisbee came over their fence. One of the kids went to throw it back over, and the dad had to stop the kid, saying "wait, don't touch it, let me get a glove" so he could throw it back without touching it. I thought this story was really poignant (and scary) because we can't even do things like return a toy without worrying that there might be virus particles on it. A huge part of the crisis right now is because we're worried about things we can't see, and that inanimate objects can really affect our lives. I think this is a meaningful story to include and might be an especially useful way to convey the seriousness of this event to a child in an exhibit.
— Clara Orndorff
Print news publications are a common feature in exhibits about historical events – they provide a representative snapshot of the stories at the forefront of the news at a given time in a neatly laid out visual package. Although print media has decreased in popularity in the pastdecades, it seems likely that newspapers would still be useful artefacts to include in a future exhibit about the Coronavirus pandemic. The challenge of finding reliable information aroundthe crisis, because of conflicting information and a general lack of knowledge about the virus, made the importance of independent media extremely apparent. Unlike radio or televisedspeeches, printed mediums can share visualisations of data, including of unemployment, market rates, and infection/death rates, maps of infection hotspots, and photojournalistic documentation of empty streets, the people involved in different parts of the crisis response, and the general ways that daily life changed during this period. Newspapers like the Washington Post and New York Times made parts of their online coverage related to the virus free without a subscription, and published coloring pages, board games, and patterns for hand-sewable masks in order to support children and families sheltering in place and to encourage safe behavior during thecrisis – they provide an interesting window into the human responses to the crisis, the primary stories that were being told, and the ways that people tried to support one another. These publications are tangible representations of the media people consumed and thestories that journalists felt needed to be told during the 2020 crisis. Including them in an exhibitwill allow visitors to read coverage of the crisis the same way people did in 2020, to view how coverage changed over time, and to experience the stories and rhetoric around the crisis just as people did in the moment. It will also give them an opportunity to analyze the information themselves, and put themselves in the mindset of someone who did not yet know how the crisis would ultimately unfold.
— Dorotea Macri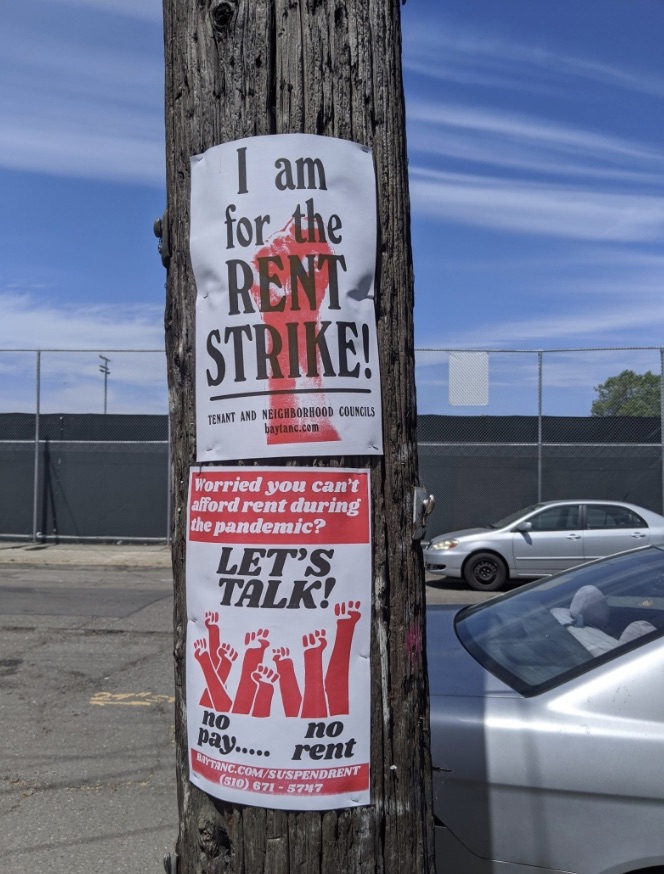 Artifacts of the 2020 Rent-Strike Movement
Fallout from the 2020 Covid-19 crisis stalled the US economy and rapidly left millions of Americans out of work, spurring a national movement conversation questioning the nature of wage labor, housing markets and rents, across cities, new movements to rent strike grew. An exhibition of the Covid-19 crisis should inevitably include an archive of local, regional, and national movements to strike paying rent. At a moment in history with skyrocketing unemployment and continued closures of public spaces and business to safeguard public health, the movement to rent strike corresponds to the state and federally mandated work stoppages. Even with the federal stimulus payment, renters and strikers argue that they are unable to meet their basic needs with the little government assistance available, many individuals and families in vulnerable circumstances and without proper documentation are left out of receiving support altogether. The movement argues that housing is a basic human right and it is inhumane to charge rent when there are so many unable to work due to outside circumstances. Above is an image taken in the McClymond Neighborhood in West Oakland, CA on May 5th 2020. Street posts are plastered with printed and handmade posters encouraging solidarity in the rent strike.
— Maria Pettis
A component of the pandemic that I think is really important to capture is the element of individualism and fear in the form of stockpiling and hoarding. Things that we always took for granted and assumed would be available to us, like flour, meat, and, most of all, toilet paper, suddenly disappeared from the shelves due to the frantic "every man for himself" mindset that many adopted in the face of the shelter in placeorders. Though supply chains for most of these common items remained strong, and are simply just a matter of restocking, there is still, undeniably, a strong unsettling sensation one feels when walking into your local grocery store to find shelves, and even entire aisles, completely empty. In light of this, my artifact would not be a single thing, so much as a representation of the absence of things. I would include an aisle of empty shelves (or just one empty shelf if that better qualifies as a singular "artifact"), with labels and pricetags still hanging from the racks to show the kinds of items that were gone. I think many artifacts might show the ways people sought out comfort and passed time, but I think it's also important to try and demonstrate to people the kinds of fear, tension, and uncertainty that run through society as a whole throughout the course of the pandemic. For me, there is no one item or experience that can describe what this has been like, so much as the lack of the items and experiences I would expect to have. I want to try and portray the fear of going to the grocery store to buy ingredients for the soup my mom always makes when I'm sick, except this time I'm making it for her and she's had a fever for ten days and the grocery store doesn't even have the kind of pasta I need for the recipe, or trying to buy milk so I can make my sister some hot chocolate to soothe her throat, and having to make sure I go on the day the store restocks to make sure I get there before it all gets bought up. I think these kinds of feelings are what paint the landscape of living under COVID, and would then allow a museum visitor to better understand the need for comfort that other artifacts might have served to offer, which is integral to comprehending the experience.
— Katrina Roth
I highly doubt whether in 2120 anything that we currently do (or have) would make sense at all, even for storytelling purposes. It is not hard to imagine how in 2120 the concept of shelter would be expanded far beyond the building-like objects that we currently are accustomed to; a shelter in-place in 2120 would mean anything but stay secluded in a narrow physical space. This said, I am convinced that there is no better artifact to display at a 2120 exhibition than a 2020 house. It would look like a really grim prison. Don't get me wrong; being in 2120 would still involve a society (the internet) to provide a semantic network (aka. definitions) and therefore an interpretation of what is perceived. It is more of a question of whether that which is perceived has any structural components tying it back to what what we currently perceive; there would be, I believe, close to zero such structural components. The COVID-19 experience is defined by boundaries. We can still communicate with each other, but due to distancing we are restraining our perception to a physical space. Depending on the devices we have at home, we can also visit artificial environments, but this capability is extremely limited. In contrast, in 2120 this capability would be unlike anything we can imagine today. Being in 2120 would not involve a building-like house, and as shelter would rather be understood the platform/devices emulating the artificial environments one spends most time at. These environments would be composed of highly malleable structures, as well as physical laws that perhaps violate the laws of physics (so long as our perception does not prevent such violations). In 2120 therefore, a 2020 house (that is, an environment that is unmalleable and restrictive in the ways that it allows its inhabitants to communicate with the rest of society) would very much look like a cell; or (and I bet my money on this) a really chic thing to do. More than just a few people choose to nowadays get buried underground for a few hours (the keyword being "few hours"), which does not make it hard to imagine why an inhabitant of 2120 would like to spend some seconds living the tense experience of being trapped inside four walls. The physical building, made of bricks and concrete, would be the perfect addition to any 2120 gallery dedicated to noir; and the bucket-list item of every adrenaline junkie. Long live concrete.
— Apollo Thomopoulos
If I were recommending an artifact to a 2120 coronavirus historian, I would recommend several objects that show the world's slow, gradual recovery after the pandemic, and how society adapted to fears of viral transmission in public spaces. Specifically, I'm curious to see what design language will emerge in the coming months/years to create new norms in public spaces with respect to personal space and physical boundaries. For the design language, I imagine a handful of different categories that encapsulate different levels of physical contact and associated risk. Perhaps one category is "cautious" which is for the most conservative individuals, who want a huge radius around them in public, and to avoid all risk wherever possible. They might be immuno-compromised. Another category could be "confident" for people who are fully ready to resume life as it was before COVID-19, or maybe already had the coronavirus and are immune. These categories would be indicated by a ubiquitous, accessible design language, namely a set of associated colors and patterned shapes for each. For the artifacts, I imagine this design language being embodied in a set of posters and pamphlets detailing what is appropriate etiquette in public, or guides for throwing events that respect people's preferences for physical contact. Perhaps individuals could choose to visually indicate their preference category on their body via some wearable: a lanyard or bracelet or phone case that can change color depending on the situation as someone's physical preferences might change with place and time. I also see this language potentially being adopted by regulatory agencies and implemented into public spaces like parks, public transit, or restaurants. I'd be interested to see signage indicating the "cautious" sections versus the "confident" sections of a restaurant or train car, with corresponding levels of allowed density and physical contact. All in all, I think this collection of artifacts could tell an incredibly compelling story about how society adapted to achieve some semblance of normalcy after the novel coronavirus. Over time, these artifacts could show how plastic or elastic the changes brought about by the coronavirus were, and how quickly or slowly public attitudes and fears changed with respect to viral transmission.
— Jack Wallis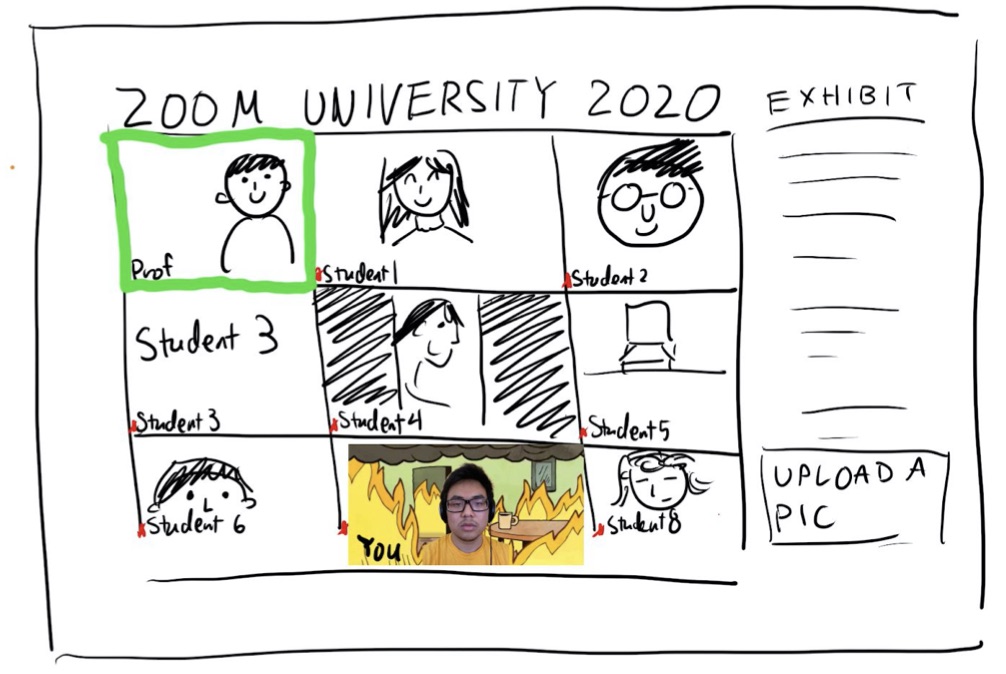 Zoom University
In 2020, before the great educational reform in America, schools faced a huge crisis when they had to quickly adapt their in person curriculum to online. While some schools started this process earlier than others, one unifying movement across the country was the transition to Zoom University (Zoom was a video conferencing company before they were acquired by The Facebook Company). While your generations, and the ones before you had a good handle on technology, the Gen Z'ers, Millennials, and Boomers all had differing technical literacy. Many teachers had a rough transition to this online platform. Some teachers taught the wholeclass with their microphone muted, while others got pranked by students themselves. Students who were ready for school to be over came up with ingenious ways to avoid coming to class. Some examples include faking poor internet connection and pre recording videos of themselvesin front of their laptops. Despite all the failures to adapt to the online curriculum, some good came to be. Students and teachers had fun playing around on Zoom. One activity that many did was upload their own photo background. In this exhibit you will have the opportunity to "sit" in one of the digital classes that were pre-recorded from great universities such as University of California, Berkeley and upload a picture from your technological core (smartphones as they called it in 2020). If you don't have any pictures in mind feel free to select one of the preexisting ones in the exhibit.
— Jerome Wang
In the 20th century and early 21st century, science and technology have hugely changed human being's life on Earth. After industrial revolutions, agriculture, transportation, medical science, and technology have quickly developed and largely improve human being's quality of life. However, in 2020, COVID-19 had largely changed people's life. People were living through a challenging period. Here are some artifacts that I would like to share with people in 2120.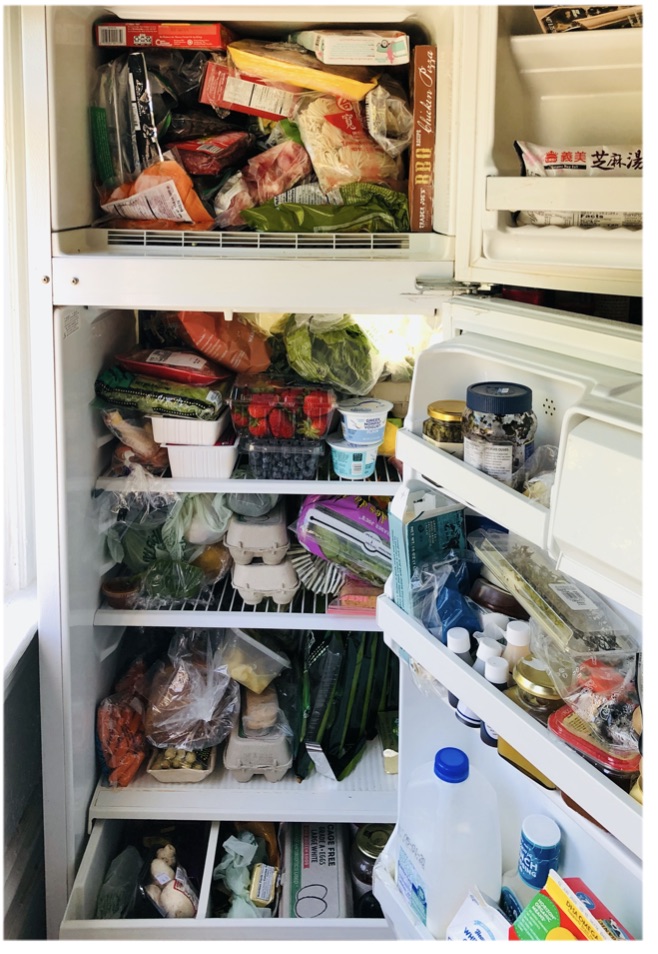 In 1913, refrigerators for home use were invented. Home-use refrigerators are used to store food and keep food fresh for the long term. Here is a picture of one student's refrigerator in May 2020. The refrigerator was full of frozen food that the student purchased in advanced which can last for 1 month. During COVID-19 time, people were encouraged to stay at home and avoid the crowded public area, therefore, people purchased frozen food or canned food and kept them in their refrigerators so that they didn't need to go to the grocery stores too often. Their refrigerators look like the picture below all the time. For grocery shopping, there was a limitation of how many people can be inside the shop at one time. People need to wait in line with 6 feet distance from each other outside shops. Besides, it's hard to find a time slot for online grocery delivery services. Those services are super popular.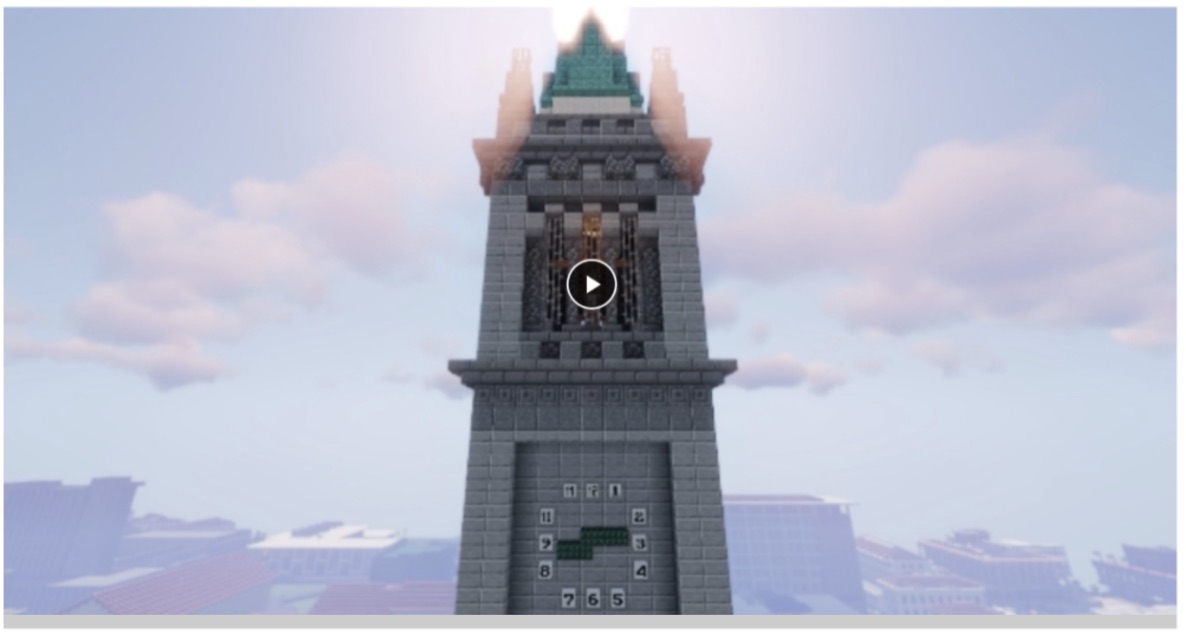 I would also want to share some digital artifacts that largely used during COVID-19. Online meeting tool: Zoom meeting tool was largely used by school classes and businesses during COVID-19. Since it was high risks for people gathering together, schools and companies chose online form to continue their study and work. UC Berkeley's online teaching lasted for 2 months at least. People started everything online: online exercises, food delivery, and online virtual graduation. For example, a group of Cal students constructed the entire UC Berkeley campus on Minecraft They called it "Blockeley University". It featured nearly all campus buildings and landmarks, including Memorial Stadium, the Campanile, and the Greek Theater. The virtual graduation ceremony was held online at "Blockeley University" in May 2020.
— Bowen Wei
Before 2025, I never used data charts or maps that often. On the third day that I arrived in the United States after winter vacation, the COVID-19 broke out in China, and Wuhan was locked down. I was so worried about my family back in China. Since then, I kept checking case counts every single day, even more than 10 times a day. I saw the curves went steeper and steeper, I saw every province had confirmed cases, and I counted how many cases were in my hometown. Luckily, strict stay-at-home orders and a series of lockdowns flatten the curve in one month. I felt relieved, but only about one week. The situation in the US seemed worse and worse. I turned to watch the growth of US cases instead. Similarly, I checked it every day. The last thingI would do before I went to bed is checking the case curve. How many cases are in the country now? What is the new confirmed number today? How fast is the growth speed? Is the spreading speed going to slow down? How is California doing compared to other states? Yes, the curves answered my questions. And checking thecurve is my new ritual of the day.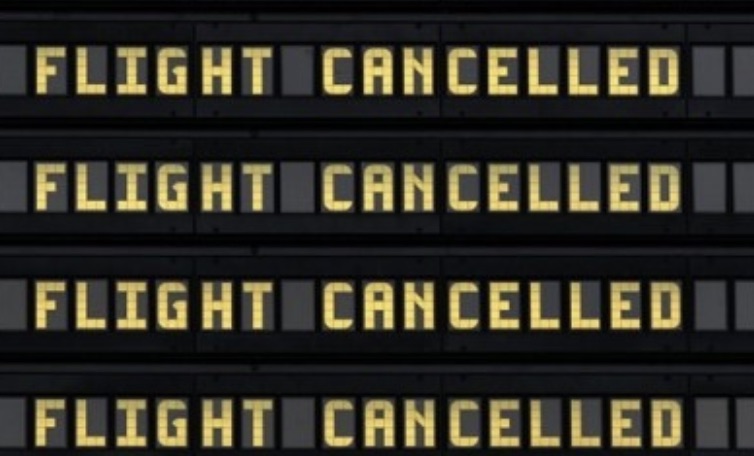 After the chancellor announced on-line classes would continue to the end of thesemester, I considered going back to China. I would never know the feeling of receiving flight cancelation notice three times in late March 2020 if I bought the earliest ticket, no matter how expensive it was. In the beginning, I bought a flight ticket on April 15. I thought that flight with a price of about $900 was the earliest one that I can afford. However, after 10 days, the flight was canceled, probably because of the sudden flight restriction announced by China. My parents urgently wanted me to go back home, so I tried again. I bought two more tickets just in case one of themmay be canceled again. But a similar story happened twice.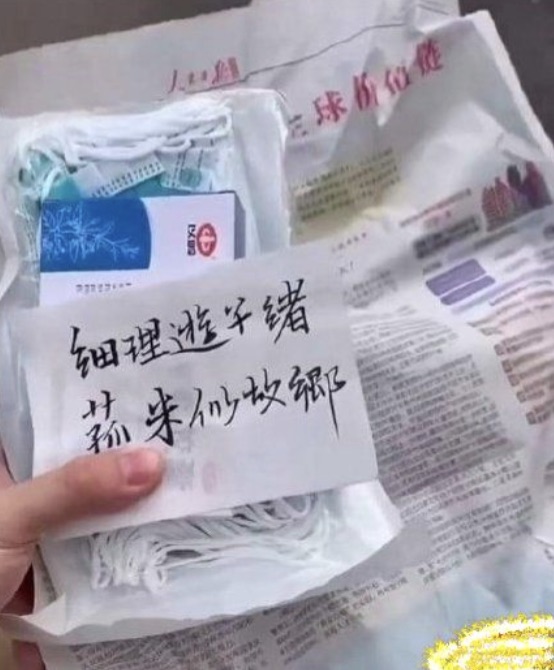 Thousands of Chinese students were stuck overseas where the COVID-19 situation is not optimistic. It is getting harder and harder to buy masks everywhere. Without families being around, most of the overseas students do not have much support. Consulates of China in the US, Canada, many countries in Europe, Australia, and soon started distributing health kits to overseas Chineses students. There are masks, disinfection wipes, traditional Chinese medicine, hand sanitizers, and a note with handwriting poems, saying about the hometown. There is no exact number of healthkits in the US, but 500,000 kits were already sent out around the world.
— Cui Wang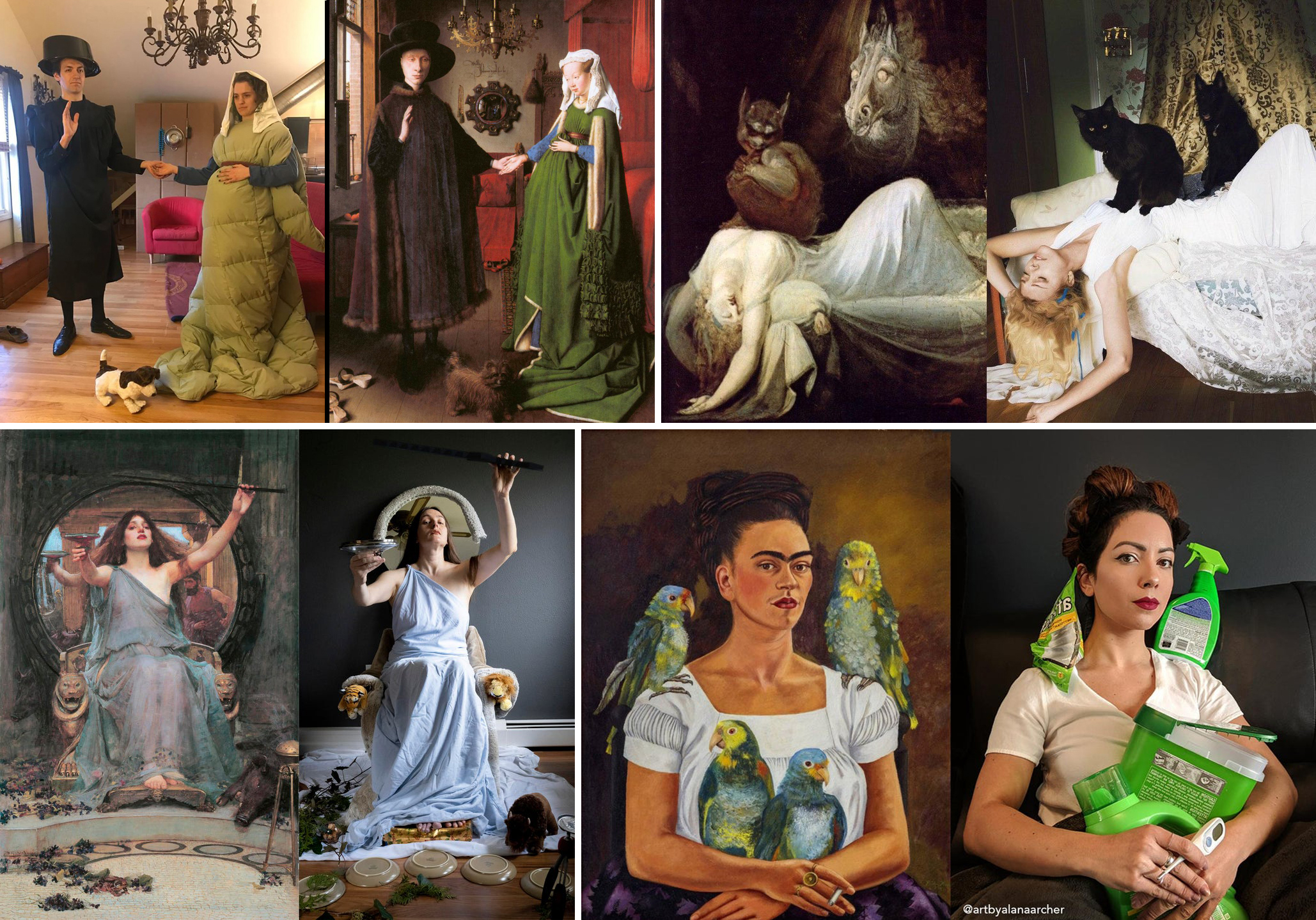 The Getty Museum Challenge: Reflection in Pandemic
During the COVID-19 shelter-in-place order, the J. Paul Getty Museum in Los Angeles issued a challenge to their followers to recreate pieces from their collection using household objects. Over the course of weeks, the challenge spread across social media engaging users from several platforms to post their own interpretations. The Getty Museum Challenge: Reflection in Pandemic celebrates the 100-year anniversary of this trend by revisiting these photos collected from internet archives. These democratic recreations of classical pieces offer a glimpse into the first installment of quarantined life for the American middle and upper class. The playful presentation and use of artifacts representing current events and themes of 2020 create a sense of jollity, however underlying anxieties of isolation, uncertainties, and family dynamic proliferate throughout the pieces. Moving through the recreations of 2700 BC to post World War II America movements, the exhibition scouts the roots of tensions and comedic relief continued until today.
— Mikio LaCapra
---
---